Etihad Airways, the second flag carrier of the United Arab Emirates (UAE) on Friday announced that the passenger flights from India, Pakistan, Sri Lanka, and Bangladesh would be suspended until July 31.
In response to a customer query the airline said, "Following the latest UAE Government directives, passenger travel from India to the UAE and Etihad's network has been suspended effective until 31 July 2021."
Also, the official website of Etihad Airways has not shown any flights to the UAE from Mumbai, Karachi, Colombo, and Dhaka for the whole month and flights are only showing starting 01st August 2021.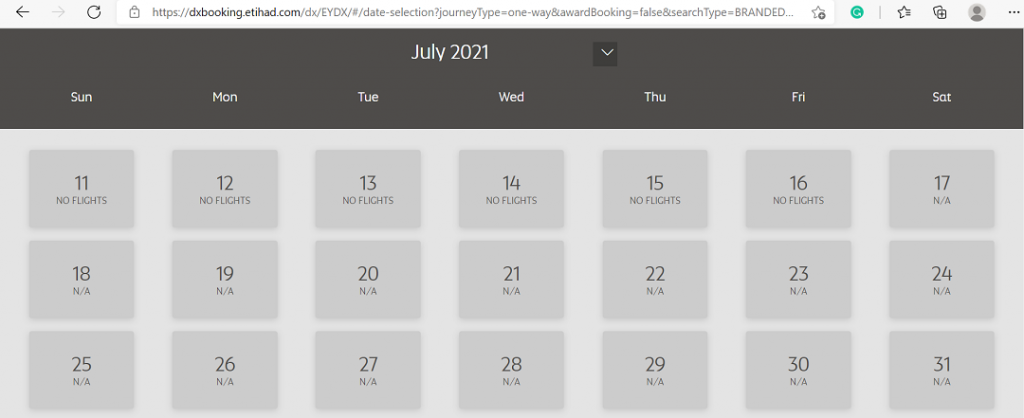 However, if you are a diplomat or a UAE national, or a Golden Visa holder. Your PCR test in this case must be taken a maximum of 48 hours before your flight departure.
It may be noted that earlier this week Emirates has also announced that the passenger flights from India, Pakistan, Bangladesh, and Sri Lanka to the UAE have been extended until at least July 21.
Moreover, the airline on Friday has also extended the suspension on flights to and from South Africa and Nigeria until July 31.
Recently the Adel Al Redha the Chief Operating Officer of Emirates said;
"India and Pakistan routes are subject to government review and the development of the situation of the virus in those countries. We will wait to see what is coming up from the government. But there is a constant review of the development related to the Covid-19, not just to India and Pakistan, but across the globe."
It is worth mentioning that earlier this month the General Civil Aviation Authority (GCAA) of UAE has issued a NOTAM (Notice Issued to Airmen) and said that the flights from India and 13 other countries will remain suspended until 23:59 hrs. of July 21, 2021.
However, till now there is no official update from GCAA on the extension of flight suspension from India and other countries.
Also Read: IndiGo Issues Guidelines For Passengers Traveling To Gulf Countries: Details Here