As you may be aware, Thailand recently updated its entry rules and completely removed the requirement for any type of quarantine of visitors entering the country; the Southeast Asian country also removed the requirement for a 'Thailand Pass' for Thai citizens and simplified the registration process for other visitors.
Thailand Pass Validity
Despite all of these positives, one minor revision has been made to the validity of the pass, which has now been returned to the +3 days from the initial date of entry requested by the passenger.
This means the validity of the Thailand Pass is no longer a +/- 7 days range from the stated entry date, as it has been in recent months (s).
This may be inconvenient because you must now re-register if your travel date changes even if it is a day before/after the date listed on the Thailand Pass QR Code.
Also Read: Thailand Aviation Authority Issues NOTAM For Airlines, Passengers Regarding New Entry Regulations
Thailand Pass Registration
Non-Thai nationals can now register for a 'Thailand Pass' in only one category: 'No Quarantine'. It is worth noting that travellers entering Thailand without a Thailand Pass will face legal consequences outlined in the relevant laws, and they must strictly adhere to the instructions provided by the Thai authorities.
Requirements For Thailand Pass
Conditions:
Travel from a port of departure in any country/territory.
Fully vaccinated against COVID-19 no less than 14 days before travelling.
Or have a COVID-19 RT-PCR or Professional Antigen test result issued no more than 72 hours before departure (attach on Thailand Pass only) (If unvaccinated / not fully vaccinated).
Documents Required:
Passport
Thai Visa (if required)
Certificate of Vaccination
Or COVID-19 RT-PCR or Professional Antigen test result issued no more than 72 hours before departure (If unvaccinated / not fully vaccinated)
Insurance with minimum coverage of 10,000 USD (not required for Thai nationals / foreign residents in Thailand can use social security or certificate from their employer)
Reference documents require only Thai or English
Thailand's New Entry Requirements
According to an announcement made by the tourism authority of Thailand, the following rules will be in effect from June 01 2022, with specific requirements for vaccinated and unvaccinated/not fully vaccinated travellers from all countries/territories with scheduled arrivals from today (June 01).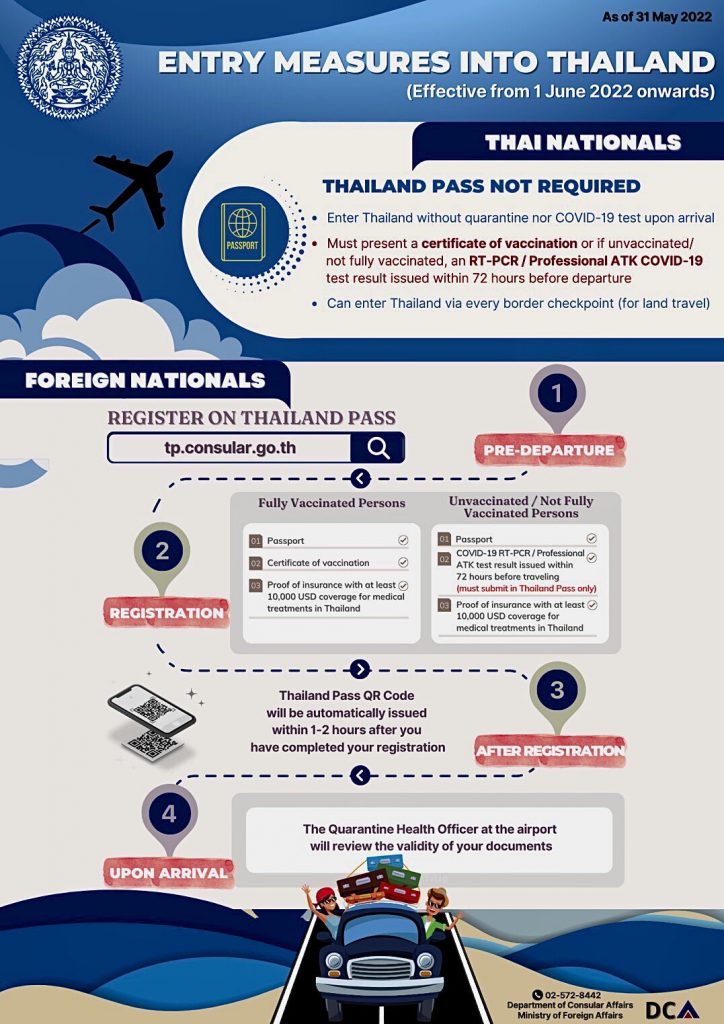 ---
Follow and connect with us on Facebook, Twitter, Linkedin, Instagram and Google News For the latest travel news and updates!
---