Indian national flag carrier, Air India, has announced additional flights between India and UK under the phase 5 of the Vande Bharat Mission, on Friday, July 31.
Here are the flights will be operating in addition to the existing flights between India and UK.
As per the update posted by Air India on its official twitter account the airline will be operating following additional flights under VBM Phase 5:
Weekly flight on every Sunday between Delhi – London – Delhi from 9th – 30th Aug 2020
Weekly flight on every Wednesday between Mumbai – London – Mumbai from 5th – 26th Aug 2020
Flight from London to Bengaluru on 9th Aug 2020
Flight from Bengaluru to London on 11th Aug 2020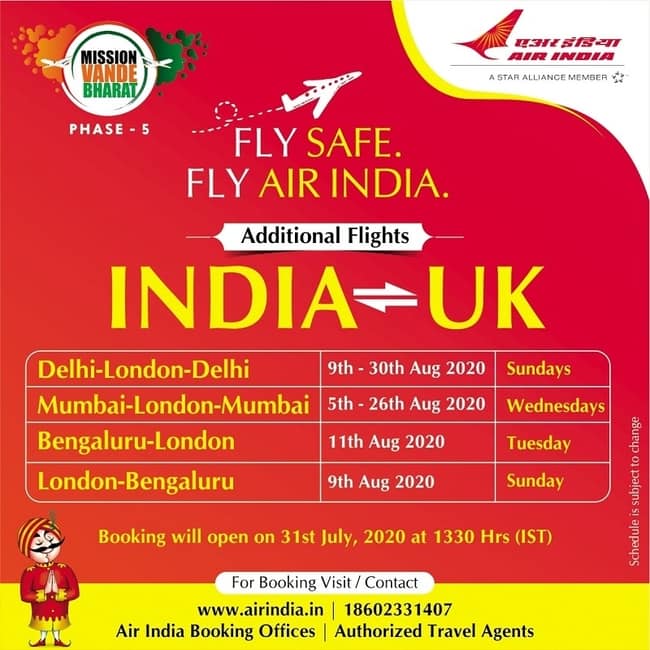 Bookings of these additional flights has started from 31st July 2020 from 1330 IST.
Those who wish to travel can book their flight tickets on Air India website, Booking Offices, call center and via the authorized Travel Agents.
Air India also advised passengers to check fares on https://bit.ly/309voT7 and not to overpay for Vande Bharat Mission flights while book from Travel Agents.
Earlier this week the airline has also announce few additional flights which connect Delhi, Bengaluru, Amritsar, Mumbai and Kochi to London.
Last week the Air India has announced its schedule for Vande Bharat Mission phase 5 and the airline said that they will add more flights to USA, Canada, Oman, Qatar, Australia, Germany, Thailand, Singapore, UK, Germany, Saudi Arabia, New Zealand, Philippines & others.
Also Read: Air India Warns Travel Agents Against Over-charging On VBM Flight