In a recent move, the United States government transitioned to a new appointment booking system for US visa applicants, leading to a surge of difficulties for those seeking appointments. The changes have resulted in significant delays, particularly when it comes to fee payment and securing appointment dates.
Travel agents and first-time B1 (business) and B2 (tourist) visa applicants have reported wait times of up to 1.5 years for their appointments, highlighting the challenges posed by the new system.
Delays Stemming from Technical Hurdles
Applicants aiming to secure a US visa now face a two-step process: filling out the DS 160 visa form and performing a CGI log-in to make the necessary fee payments and schedule an appointment date.
However, it's the fee payment stage that has undergone changes, leading to various technical difficulties. Travel agents and applicants alike have reported issues related to logging in with their credentials, further complicating the process.
US Embassy Acknowledges Challenges
Recognizing the disruptions caused by the new appointment booking platform, the US embassy in India issued a statement addressing the concerns of applicants. The embassy expressed its understanding of the difficulties some applicants have faced during the transition phase and offered a solution for technical assistance.
Applicants were directed to contact [email protected], providing essential information such as applicant name, passport number, appointment confirmation number, and a brief description of the encountered problem.
"We recognize that some applicants have experienced service disruptions during our transition to a new appointment booking platform. For technical assistance with the appointment booking platform, please write an email to [email protected] with the following information: applicant name, passport number, appointment confirmation number, and a brief explanation of the problem. We regret any inconvenience and aim to resolve your issues as soon as possible."

said the US Embassy in a Tweet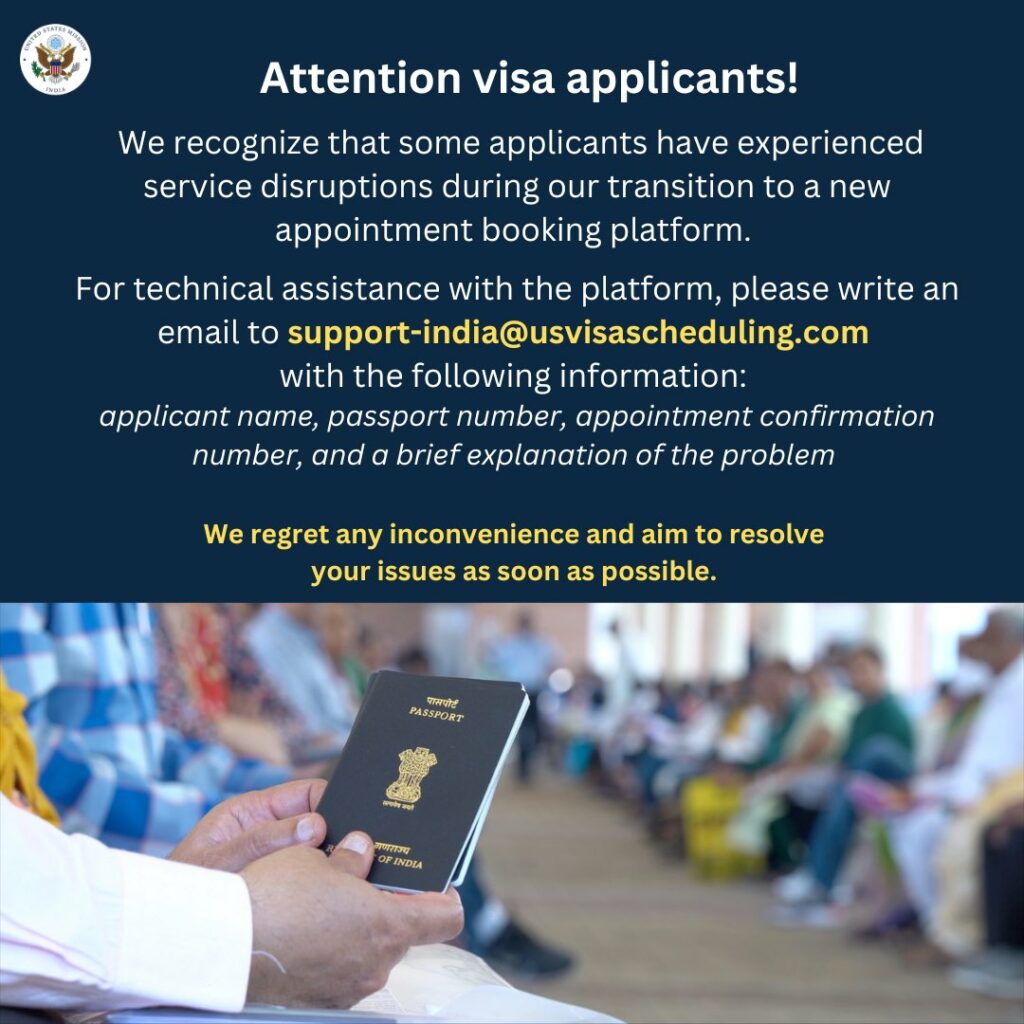 Extending Wait Periods for B1/B2 Applicants
Adding to the concerns, the technical glitches come at a time when appointment wait periods for first-time B1 and B2 visa applicants remain lengthy, extending beyond 1.5 years.
Although this wait time is notably shorter compared to the over two-year wait period experienced until recently, significant disparities still exist among various cities in India.
As per the US State Department website, the current wait times are as follows: 421 days in Kolkata, 428 days in Hyderabad, 437 days in Chennai, 570 days in Mumbai, and 527 days in Delhi. The US consulate in India has been proactive in addressing this backlog, resulting in a substantial reduction in wait times.
The consulate is determined to process a remarkable 1 million applications this year, successfully completing 900,000 applications already.
Moving Forward
As the US embassy and consulate work to resolve technical glitches and minimize appointment wait times, prospective US visa applicants are advised to stay informed about updates to the system.
The government's efforts to streamline the process and accommodate the growing number of applicants signify a commitment to facilitating international travel and fostering relations between countries.