After IndiGo, other Indian carriers including Air India, Vistara and SpiceJet have also issues advisory for their domestic and international passengers and advised passengers to reach the airport at least 3.5 hours prior to their flights, and with just one hand baggage.
Airline Issues Advisories
Air India, in its advisory for passengers, said, Delhi airports are currently experiencing higher than usual footfall, which is causing longer than usual boarding and check-in times.
In order to ensure a smooth security check, passengers are advised to arrive at least 3.5 hours before their domestic flight and 4 hours before their international flight. Additionally, passengers are asked to bring only one piece of cabin luggage.
Air India also requests that passengers complete web check-in to facilitate faster movement at the airport.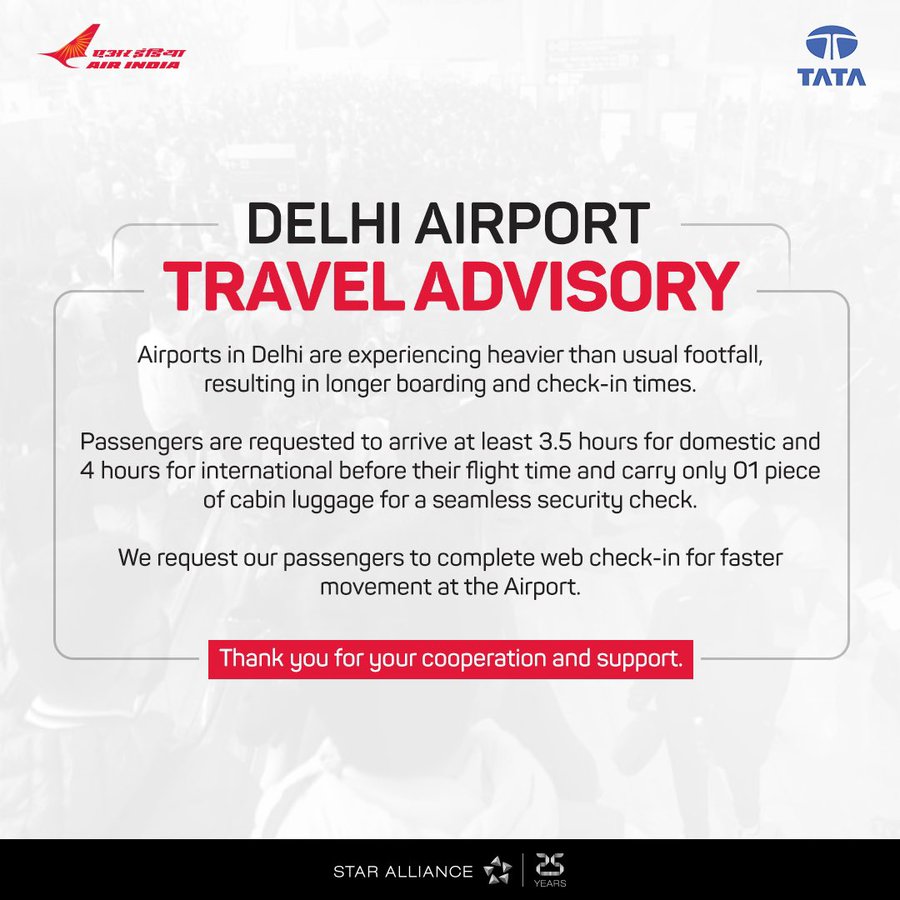 In response to the congestion, Vistara is advising its passengers to arrive at the airport at least three hours before their domestic and international flights. The advisory from IndiGo also notes that the Delhi airport is experiencing high footfall and longer than usual check-in and boarding times.
Similar advisories have also been issued by the budget carrier SpiceJet and the airline has also advised passengers to complete their web check-in, and keep their boarding pass along with their identification proof handy for entry to the airport.
SpiceJet also advised passengers who are travelling from Delhi Airport to use entry to Terminal 3 may be made from Gate numbers 1 & 2 and Terminal 1 may be made from Gate numbers 3 & 4.
Regarding Mumbai airport, SpiceJet has advised passengers for domestic flights to reach "2.5 hours prior to flight departure time and 3.5 hours prior for international travel.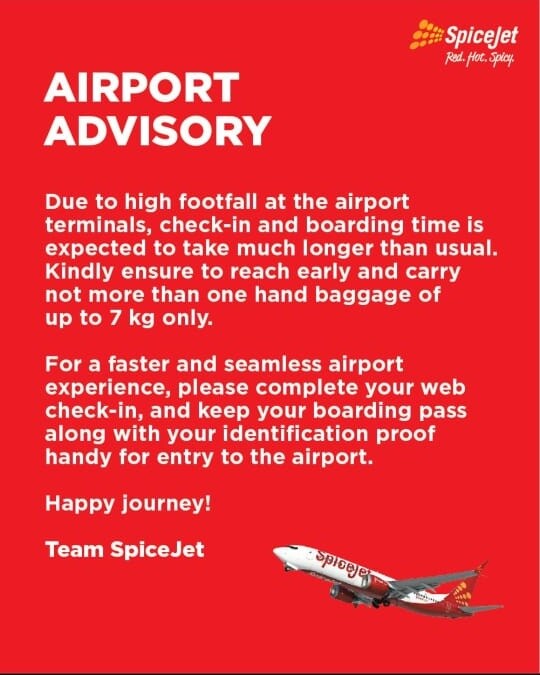 Advisory From Delhi, Mumbai And Other Airports
Recently, Mumbai's Chhatrapati Shivaji Maharaj International Airport (CSMIA) issued an advisory for both domestic and international passengers who are expected to travel from the airport in the coming weeks, advising them to arrive at the airport early.
CSMIA advised that all international travellers should arrive at the airport at least 3.5 hours before their scheduled departure times, and domestic travellers should arrive at least 2.5 hours before.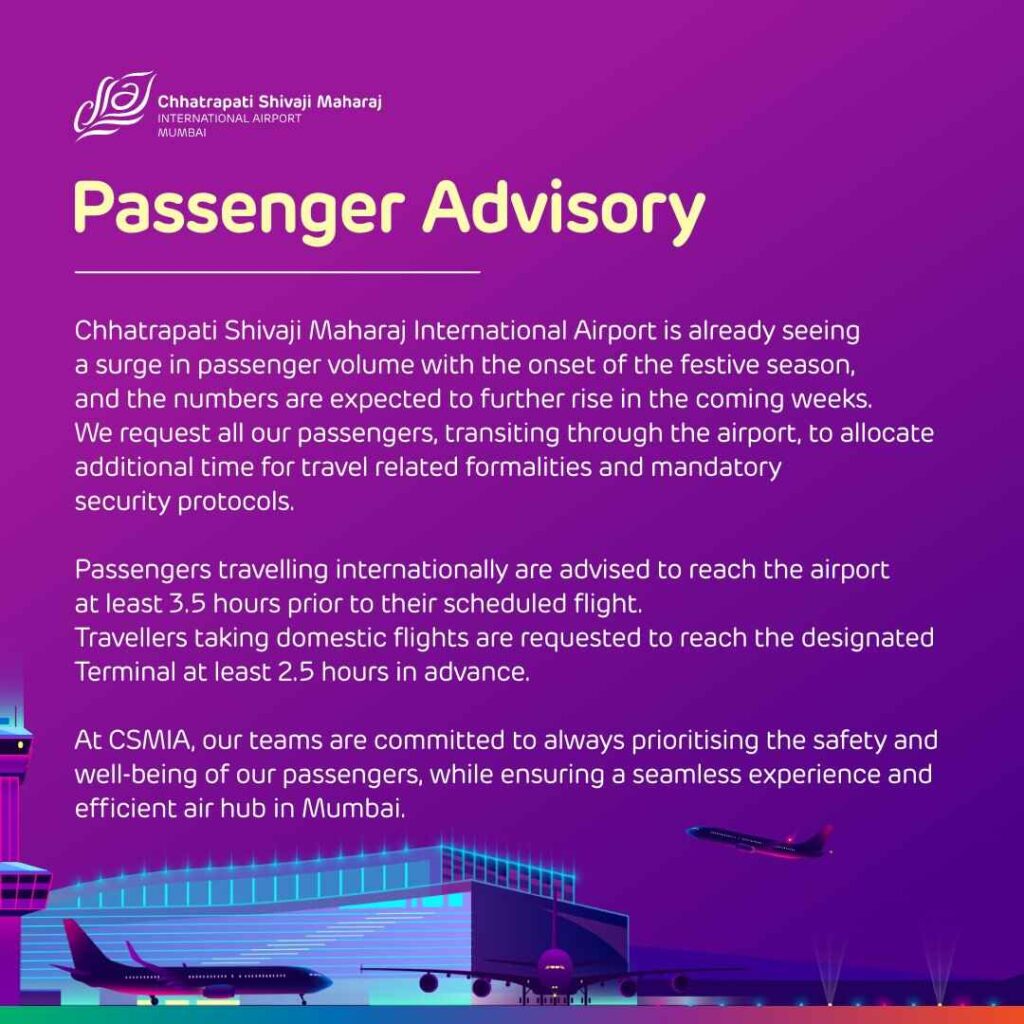 On Tuesday, the Thiruvananthapuram Airport also issues an advisory and said, "Due to the onset of the festive season, Thiruvananthapuram Airport is already seeing a surge in passenger volume. So, we request all our passengers to allocate additional time for travel-related formalities."
TRV Airport in its advisory asks passengers travelling internationally to reach the airport at least 3 hours prior to their scheduled flight. Travellers taking domestic flights are requested to reach the designated Terminal at least 2 hours in advance.
Congestion At Delhi Airport
The Indira Gandhi International Airport (IGIA) in New Delhi has been experiencing long queues and crowds due to an increase in air traffic. Authorities have implemented an action plan, including reducing the number of flights during peak hours, to address the issue.
Union Civil Aviation Minister Jyotiraditya Scindia also inspected the arrangements at the airport on Monday.
To reduce delays and ensure a smooth flow of passengers, the civil aviation ministry has also ordered decongestion measures and asked all airlines to deploy manpower at all check-in and baggage drop counters.
On December 15, the Parliamentary Standing Committee on Transport, Tourism, and Culture summoned the CEO of Delhi Airport Ltd (DIAL) and others to discuss the airport's congestion.