National carrier Air India on Tuesday issued a new passenger advisory and announced that the airline is going to extend waivers of Cancellation & Rescheduling Fee.
The airline is now offering free cancellation and rescheduling for all Domestic and International flight tickets till 30th April 2020.
In the new passenger advisory, Air India has decided to extend the following waivers.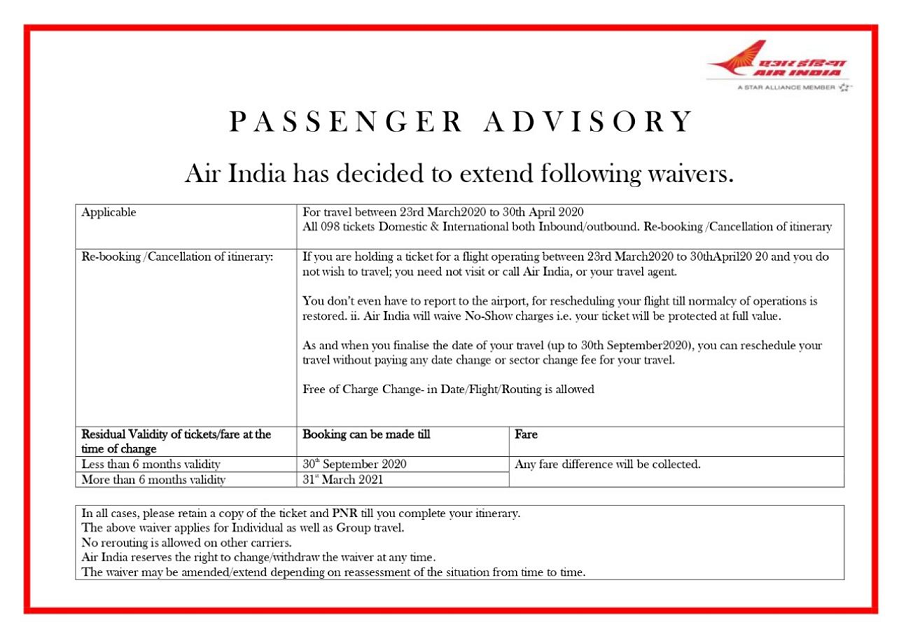 Applicable For travel between 23rd March 2020 to 30th April 2020 All 098 tickets Domestic & International both Inbound/outbound.
Coronavirus: All Airlines Advisory On Cancellation and Amendment
Re-booking/Cancellation of Itinerary
If you are holding a ticket for a flight operating between 23rd March 2020 to 30th April 2020 and you do not wish to travel; you need not visit or call Air India, or your travel agent.
You don't even have to report to the airport, for rescheduling your flight till normalcy of operations is restored. ii. Air India will waive No-Show charges i.e. your ticket will be protected at full value.
As and when you finalize the date of your travel (up to 30th September 2020), you can reschedule your travel without paying any date change or sector change fee for your travel.
Free of Charge Change- in Date/Flight/Routing is allowed.
| | |
| --- | --- |
| Residual Validity of tickets/fare at the time of change | Booking can be made till |
| Less than 6 months of validity | 30th September 2020 |
| More than 6 months of validity | 31st March 2021 |
* Any fare difference will be collected.
In all cases, please retain a copy of the ticket and PNR till you complete your itinerary.
The above waiver applies for Individual as well as group travel.
No rerouting is allowed on other carriers.
Air India reserves the right to change/withdraw the waiver at any time.
The waiver may be amended/extend depending on the reassessment of the situation from time to time.
To get travel updates directly on your mobile, save and send a message at 9461777617 on Whatsapp to start.
Govt Suspends All Domestic Flights From Today Midnight
All Domestic Flights Cancelled Till 14 April 2020