VFS Global, the world's largest outsourcing and technology services specialist has issued an update for its Swiss Schengen Visa customers in India and informed them that starting 04th April it is mandatory for applicants to provide biometrics if they apply from any visa application centre in India.
"A key update for all our Switzerland visa customers in India. Please note that it is mandatory for all customers who have booked their appointments from 4 April 2022 (Mon) to be present at our Visa Application Centres to submit their applications & register their biometric data,"

said VFS Global in a Tweet.
As per the latest directives from the Embassy of Switzerland in New Delhi, it is mandatory for all Switzerland visa customers (12 years and above) to visit our nearest Visa Application Centre for registering their biometrics across India, effective today.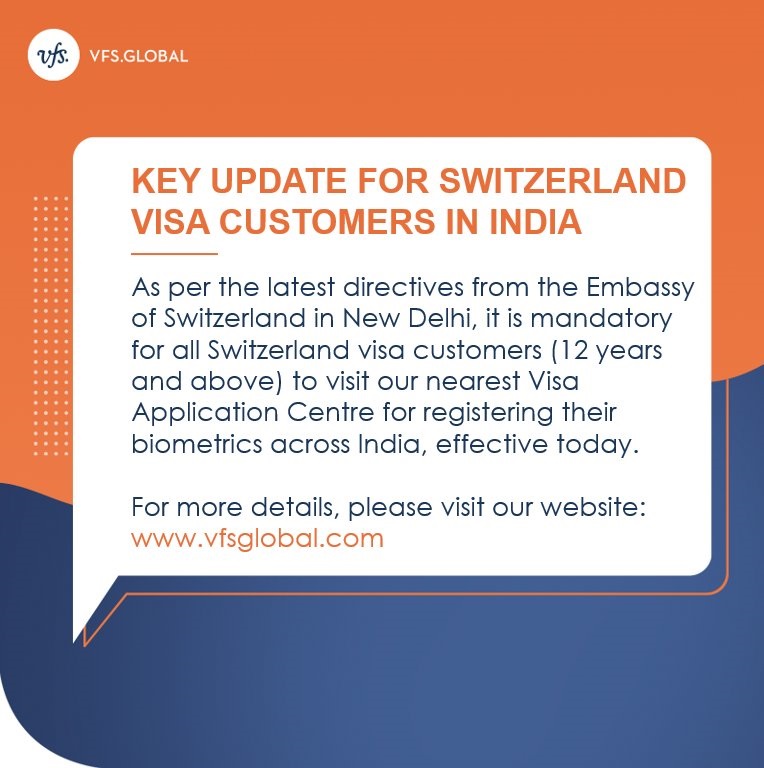 Mandatory Biometrics For Swiss Schengen Visa
The Embassy of Switzerland in New Delhi has ordered that applicants must provide biometrics each time they apply for a Swiss Schengen Visa from any visa application centre in India, with immediate effect.
The 59-month biometrics validity is no longer applicable in India, and all new Swiss Schengen visa applicants will need to visit their nearest VFS Centre to register their biometrics each time.

Third-party visa application drop-offs are no longer permissible.