VFS Global, the world's largest visa outsourcing and technology services specialist for governments and Embassies on Monday in a social media post informed that it will relocate its Visa Application Centre (VAC) for over 10 countries starting March 13, 2023.
The Visa Application Centres in Hyderabad for Bulgaria, Cyprus, Dubai Visa Processing Centre (DVPC), Georgia, Japan, Lebanon, Malaysia, New Zealand, Thailand, Ukraine, and Vietnam will be moving to a new location.
The new address for the Visa Application Centres will be;
Unit 1, Lower Concourse, Punjagutta Metro Station, 8-2-340/1, Punjagutta Rd, Punjagutta Officers Colony, Punjagutta, Hyderabad, Telangana 500082.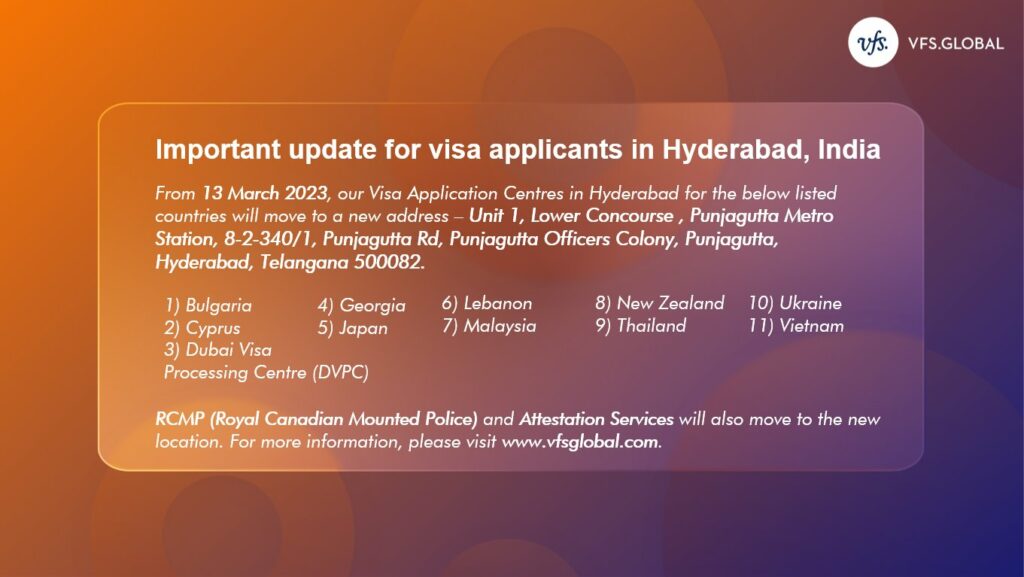 The move is aimed at providing better accessibility and convenience to visa applicants and will be effective from 13 March 2023.
Relocation of Ireland and UK Visa Application Centres
In another update for its customers, VFS Global announced the relocation of its Ireland and UK Visa Application Centres to Hyderabad beginning March 13.
The new location for these centres will be the same as mentioned above, and applicants are advised to check the VFS Global website for more details and updates.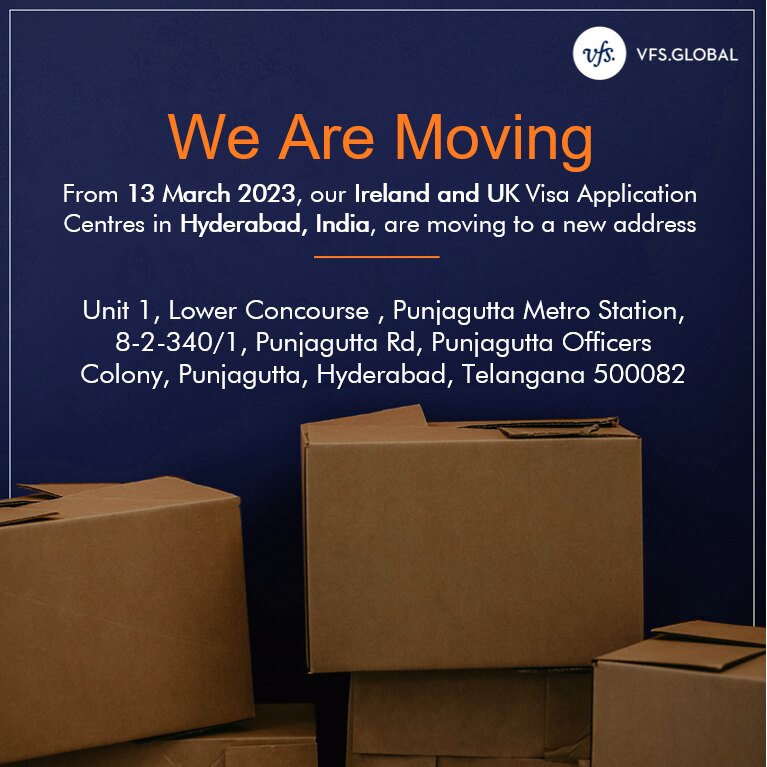 The relocation will have no effect on the application process or the services provided by VFS Global. By visiting the VFS Global website, applicants can obtain information, schedule appointments, and track the status of their applications.
About VFS Global
VFS Global is a visa outsourcing and technology services provider that handles administrative and non-judgmental visa and passport issuance tasks for governments all over the world. VFS Global, with over 375 visa application centres in 147 countries, provides efficient and reliable visa services to millions of travellers each year.