As part of EU visa policy and efforts to control illegal immigration, Serbia has ended visa-free travel for Indian citizens. According to a travel advisory from the Indian Embassy in Belgrade, Serbia, all Indians travelling to Serbia from January 1, 2023, will need a visa to enter the country.
The Serbian government has cancelled the previous agreement that allowed Indians to enter Serbia visa-free for stays of up to 30 days.
Previously, Indians with ordinary passports and other travel documents could enter Serbia without a visa for up to 30 days within a one-year period.
Advisory From Indian Embassy
Indians planning to visit Serbia on or after January 1, 2023, should apply for a visa at the Serbian Embassy in New Delhi or in their country of residence, according to the Embassy.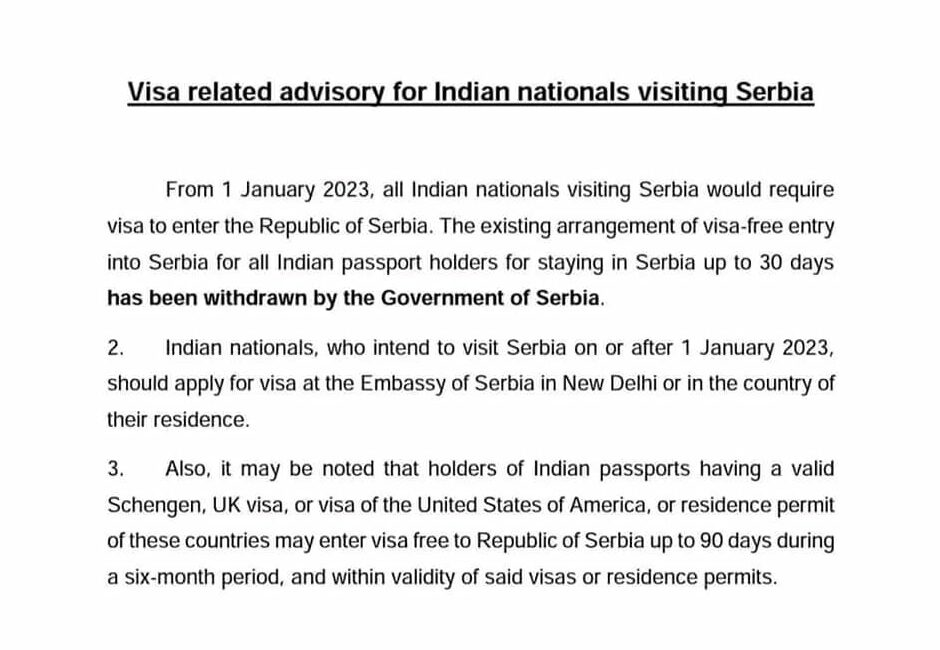 Additionally, the Indian Embassy stated that Indians holding a valid Schengen, UK, or US visa are allowed visa-free entry into Serbia for a maximum of 90 days.
The Indian Embassy in an official statement added that "Indian passports having a valid Schengen, UK visa, or visa of the United States of America, or residence permit of these countries may enter visa-free to the Republic of Serbia up to 90 days during a six-month period, and within the validity of said visas or residence permits."
It is worth noting that Serbia has also ended the visa-free regime with Guinea-Bissau, Tunisia, and Burundi starting November 20.
It may be noted that Indian citizens can still travel to 59 countries without obtaining a visa in advance. These countries offer visa-free or visa-on-arrival entry to Indians, depending on each country's specific policies and requirements. It is always advisable for travellers to verify the entry requirements of their destination country and ensure that they have the necessary documents and visas before travelling.