The General Authority of Civil Aviation (GACA) of Saudi Arabia on Monday issued a circular to all airlines, including private airlines, operating in the Kingdom's airports, to verify the immune status of expatriates before boarding the plane bound for the Kingdom.
The GACA in a circular sent to all airlines stipulated that one of the two ways is to be adopted to verify the eligibility of the expatriate traveler.
This is either by showing the status of immunization on the Tawakkalna application or submitting a report proving that the immunization is carried out in the Kingdom through the Quddum online platform.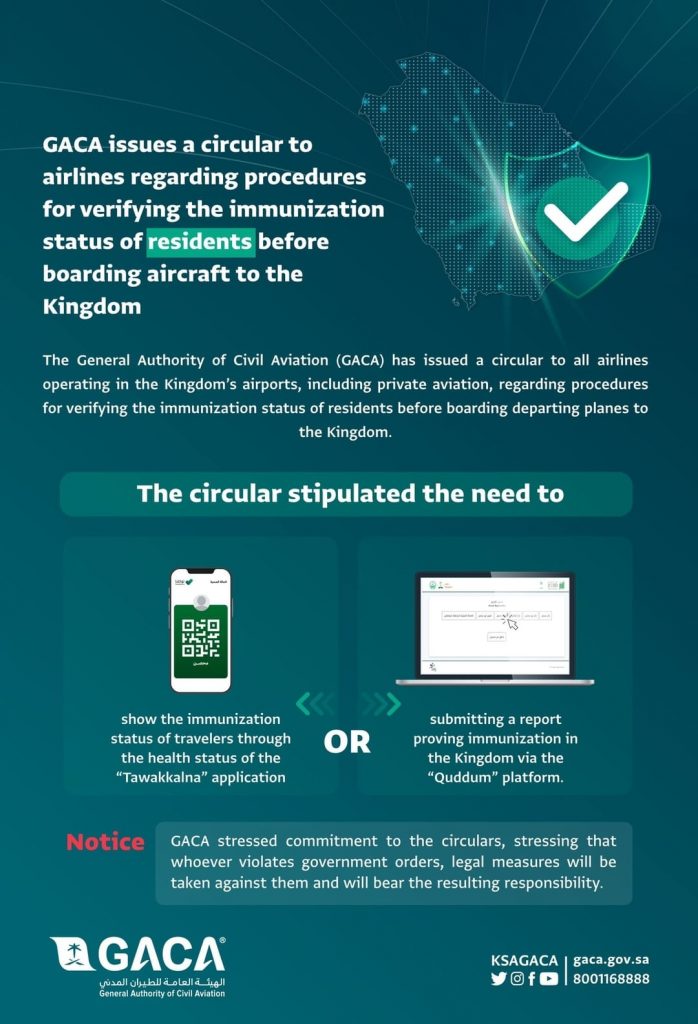 GACA issues new procedures for verifying immunization records of residents before boarding aircraft departing to the Kingdom.

The authority stressed the need to have total compliance with the new directive, warning that legal measures will be taken against the violators and that they will be accountable for any eventualities caused by the violation.

It is noteworthy that last Monday GACA had issued instructions to all airlines operating in the Kingdom's airports to update the entry mechanism and procedures for residents and visitors arriving from countries that are not on the Kingdom's entry banned list and to reduce the period of institutional quarantine to a period of five days.
Also Read: US To End Travel Ban For Fully Vaccinated Passengers From India, Britain, China, Other European Countries