The General Authority of Civil Aviation of Saudi Arabia on Tuesday announced that it will allow entry of faculty members and workers in the educational sector from the suspended countries.
In a social media post, the GACA informed that it has issued instructions to all airlines allowing faculty members and workers in the educational sector to travel directly from countries from which entry to the Kingdom is suspended.
The following categories are allowed to travel directly to the Kingdom from the suspended countries
Faculty members and the like in universities, colleges, and institutes. ​
Both male and female teachers in public education.
The General Training Authority in the Technical and Vocational Training Corporation and Training Institutes.
Scholarship Students.
The institutional quarantine will be applied to those categories, which includes their companions and families.
Excluded from the institutional quarantine is anyone who received one dose, or completed both doses of vaccines inside the Kingdom.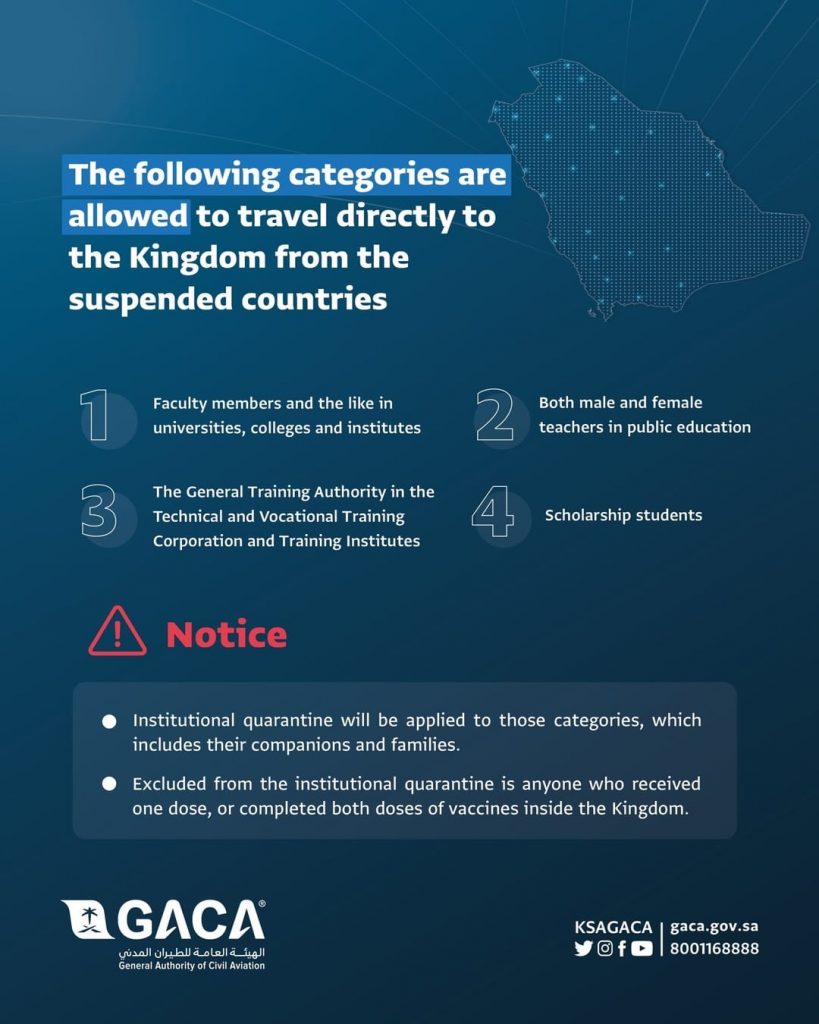 Saudi Arabia Suspended Entry From 10 Countries
It must be noted that currently, Saudi Arabia has suspended entry into the Kingdom for all guests coming or passed from India, Indonesia, Pakistan, Brazil, Turkey, Lebanon, Egypt, Ethiopia, Afghanistan, Vietnam and the same applies to those who are coming from other countries if they have passed through any of the aforementioned countries during (14) days preceding their entry to the Kingdom.
Home Quarantine For Unvaccinated Travelers
The Ministry of Interior, Saudi Arabia said on Monday that, a 48-hour home quarantine is mandatory for those who had not completed administering any of the Saudi-approved vaccines against coronavirus upon their arrival in the Kingdom.
"It has been decided that home quarantine will be applied upon the arrival of any of the groups excluded from institutional quarantine who have not completed receiving doses of any of the approved vaccines in the Kingdom of Saudi Arabia"
Also Read: Indonesia To Reopen Bali Airport For International Flights Starting Oct 14