According to the Henley Passport Index of 2020, Indian Passport Ranked at 84th position with Visa-Free access of 58 destinations. Indian Passport has slipped down by 2 positions since 2019, where the Indian passport was ranked in the 82nd position.
The Henley Passport Index is the original ranking of all the world's passports according to the number of destinations their holders can access without a prior visa.
The ranking is based on exclusive data from the International Air Transport Association (IATA), which maintains the world's largest and most accurate database of travel information.
According to the Henley Passport Index, the latest ranking includes 199 different passports and 227 different travel destinations. The data of passport index are updated in real-time as and when visa policy changes come into effect.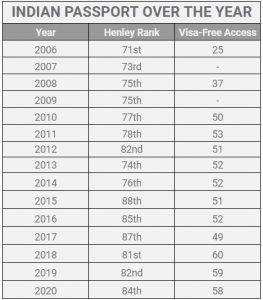 Japan has been topping the Index yet again; according to the 2020 index, Japan citizens are able to access 191 destinations without obtaining a prior visa.
Indian Passport holders can travel to 58 destinations in Asia, Europe, Africa, Middle East, Ocenia and the Caribbean without obtaining a prior visa.
List of countries Indian passport holders can travel without a visa.
Bhutan
Dominica
Ecuador
El Salvador
Fiji
Grenada
Haiti
Jamaica
Mauritius
Micronesia
Nepal
Saint Kitts and Nevis
Saint Vincent and the Grenadines
Samoa (Requires permit on arrival)
Senegal
Seychelles
Sri Lanka (Requires special permit)
Trinidad and Tobago
Vanuatu
Antarctica
FYRO Macedonia
Svalbard
Montserrat
List of countries which Indian passport holders can get visa on arrival
Bolivia
Cambodia
Cape Verde
Comoros
Djibouti
Ethiopia
Guinea-Bissau
Guyana
Indonesia
Jordan
Laos
Madagascar
Maldives
Mauritania
Palau
Saint Lucia
Somalia
Tanzania
Thailand
Togo
Timor-Leste
Tuvalu
Uganda
Turks & Caicos Islands
List of countries that require eVisa for Indian Passport holders.
Bahrain
Cote d'Ivoire
Gabon
Georgia
Kenya
Moldova
Myanmar
Rwanda
São Tomé and Príncipe
Zambia
Zimbabwe
Countries that have the highest visa-free score are known to have the world's most powerful passports. Visa-free access to a tourist destination will make travelling cheaper and hassle-free.
To get travel updates directly on your mobile, save and send a message at 9461777617 on Whatsapp to start.
Also Read, Tourists from India to now pay ₹1,000 in Bhutan as sustainable development tax