The Canadian Govt on Monday in a statement said that it has appointed the Genestrings Diagnostic Centre's lab at the Delhi international airports as the sole COVID-19 testing facility in India.
This means Canada will only accept COVID-19 tests from Genestrings lab in Delhi International Airport for passengers traveling from India to Canada.
The statement issued by the Canada Govt. further added that "Travelers eligible to enter Canada and travelling on direct flights from India must obtain a pre-departure negative Covid-19 molecular test result from the Genestrings lab."
Genestrings Diagnostic Centre's Lab, which is located above the metro station in the Airport Connect Building (ACB) at the Delhi international airport – will perform this test within 18 hours before the scheduled departure of the passengers and a test report with a QR code will be given to them, the statement added.
It is worth mentioning that, the QR code given by the lab has to be shown to the airline just before boarding.
Cost, Time Required For Covid-19 Testing
The COVID RT-PCR testing facility at Delhi Airport can be availed by all arriving international passengers, including the residents of Delhi NCR or passengers intending to undertake onward domestic connection by flight, train or bus.
You can also book a slot for COVID testing online by filling a form on the website official website of Delhi International Airport.
The Cost For RT-PCR Test is ₹500 and the report will be given within 8 to 10 hrs. The RT-PCR testing facility can be availed by both arrival and departure passengers.
While the Rapid PCR is only available for departure passengers and it cost you ₹3900 and reports will be given within a short span of 30 to 60 minutes.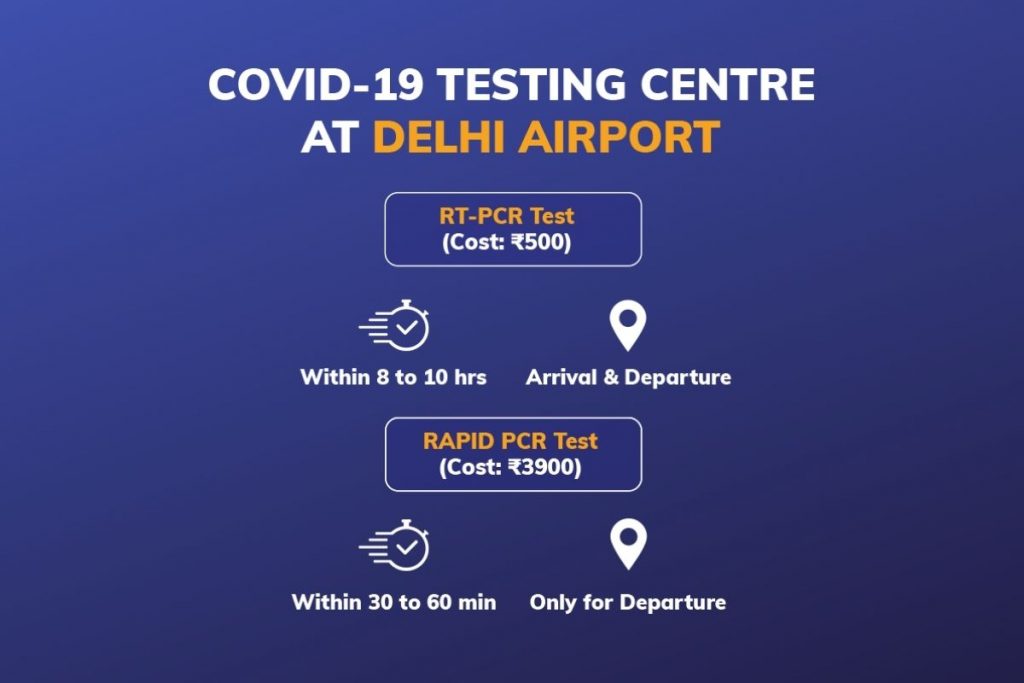 Air Canada To Increase Toronto-Delhi Service
Canada lifted the flight ban on passenger flights from India on September 27. Air Canada is currently operating two to four flights every day from the Delhi airport.
However, Air Canada has recently received approval from Canadian Transportation Agency to operate additional 3 weekly flights between Toronto and Delhi from 15th Oct. 2021 to 26th Mar 2022.
Currently, flights to Canada are being operated from only Delhi in India.
Travel Advisory For Indians
After the restriction on direct flights expires, fully vaccinated passengers, and exceptionally unvaccinated passengers eligible to enter Canada, traveling on those flights will need to:
Obtain a pre-departure negative COVID-19 molecular test result from the Genestrings Laboratory, located above the metro station in the Airport Connect Building (ACB) at the Indira Gandhi International Airport.
Perform this test within 18 hours before their scheduled departure.
Present the test report with a QR code issued by this laboratory to the air operator before boarding.
Alternatively, travelers who have previously tested positive for COVID-19 can present a positive molecular test issued by a certified laboratory in India. The date of the collection must have been between 14 and 180 days before their scheduled departure to Canada.
Also Read: India Issues New Guidelines For Tourist Visa; No Visa For Land Routes, Only Single Entry Allowed