In view of the evolving situation related to Coronavirus (COVID-19) being reported from other countries, besides the travel advisory already issued by Ministry of Health & Family Welfare, Government of India, following additional directions are issued:
New Travel Advisory on Coronavirus stated:
Indians are advised to refrain from non-essential travel to the Republic of Korea, Iran, and Italy.
People coming from the Republic of Korea, Iran, and Italy or having such travel history since 10th February 2020 may be quarantined for 14 days on arrival to India.
For any technical queries, may contact on 24*7 Health ministry Control Room helpline number +91-11-23978046 or email at [email protected].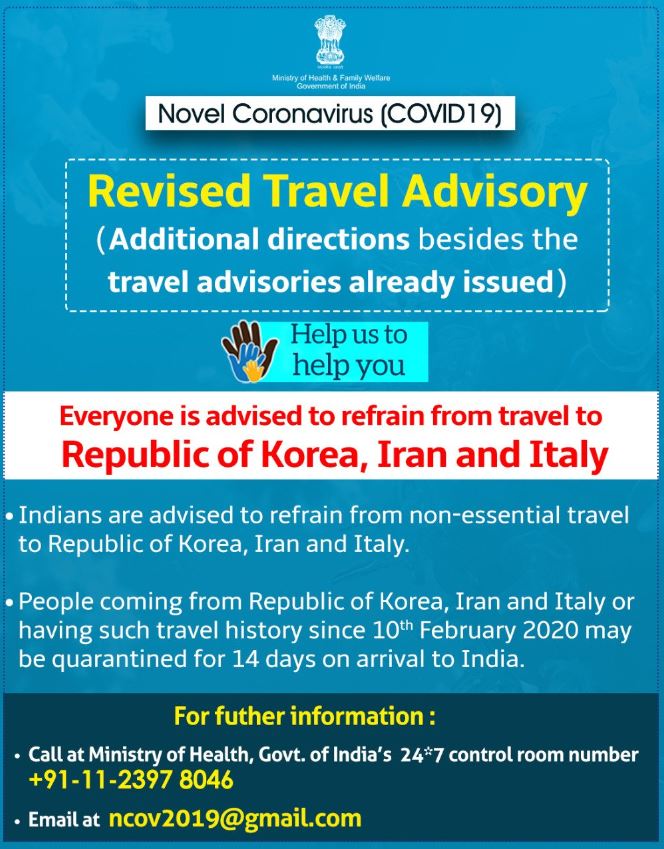 In the previous travel advisory on coronavirus stated:
Indian travelers are hereby advised to REFRAIN FROM TRAVELING TO CHINA.
Existing visas (including eVisa already issued) are no longer valid for any foreign national traveling from China.
People traveling to China henceforth will be quarantined on return.
(Source: PIB)
To get travel updates directly on your mobile, save and send a message at 9461777617 on Whatsapp to start.
Also Read, Coronavirus: Full List Of Suspended Flights to China