Emirates, the largest airline and one of the two flag carriers of the United Arab Emirates, has announced a complimentary stay of up to two nights as well as an additional baggage allowance for travellers flying into Dubai from India, Pakistan, or Bangladesh.
Recently, the airline has also announced that its customers can enjoy a complimentary Dubai Marina Cruise. Furthermore, Emirates' customers can simply show their boarding pass and a valid form of identification to hundreds of retail, leisure and dining outlets to enjoy fantastic discounts throughout Dubai
Emirates Complimentary Stay And Extra Baggage Allowance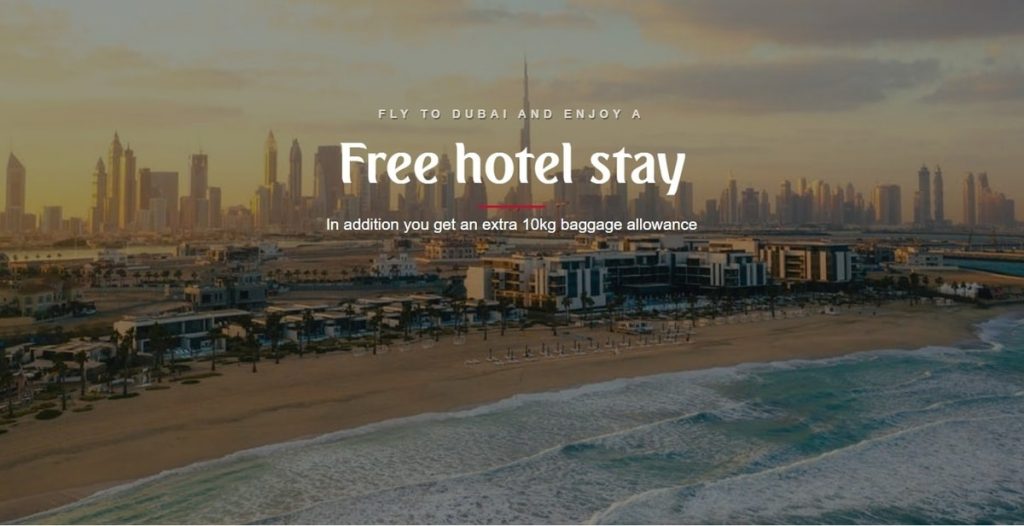 The airline is offering a two-night's stay at JW Marriot Marquis when you book an Emirates return flight to Dubai in First Class or Business Class or one night at Hilton Garden Inn Al Muraqabat when you book in Economy Class.
2 Nights Stay at JW Marriot Marquis for First Class/Business Class
1 Night Stay at Hilton Garden Inn Al Muraqabat for Economy Class
It is worth mentioning here that you will be eligible for the Economy Class package if you fly on a mixed-class itinerary that includes Economy Class flights on either the departing or return flights.
Not only that, but when you book your ticket to Dubai with Emirates, you will also receive a complimentary 10kg excess baggage allowance in both directions.
How to avail of the offer?
To avail of the complimentary stay and extra baggage allowance through Emirates, travellers need to book their return flight tickets by May 30 for travel between May 20 and Sep. 30.
Book By: May 20, 2022
Travel Between: May 20 and Sep. 30, 2022
Once you booked your return tickets to Dubai, you need to send an email at [email protected] with your confirmed PNR reference, arrival date in Dubai, the names of all the passengers in your booking, phone number and e‑mail address.
And Emirates will email you your hotel confirmation!
Notably, the flight tickets must be purchased and ticketed in Bangladesh, India, and Pakistan for return journeys to Dubai.
One way flight tickets, tickets with a final Emirates flight destination outside of Dubai; transiting Dubai passengers, and tickets with a stopover in Dubai will not be eligible for the Offer.