The West Bengal govt on Wednesday writes to the central government and says passengers arriving from Maharashtra, Kerala, Karnataka, and Telangana to mandatorily carry a negative Covid-19 (RT-PCR) test report from 12:00 hours of Feb 27.
RT-PCR test needs to be done within 72 hours of flight departure. Those who are entering West Bengal by Trains or Buses and other transportation have been exempted.
"In view of the increasing trend of Covid cases in the states of Maharashtra, Kerala, Karnataka, and Telangana and in continuation of 385/HS/PA/20 dated 265August,2020 this is to inform you that the State Government has decided that from 12.00 noon of 27th February 2021, all passengers coming to West Bengal from the aforesaid 4 states shall mandatorily carry a covid negative RT-PCR report for such test conducted within 72 hours of flight departure."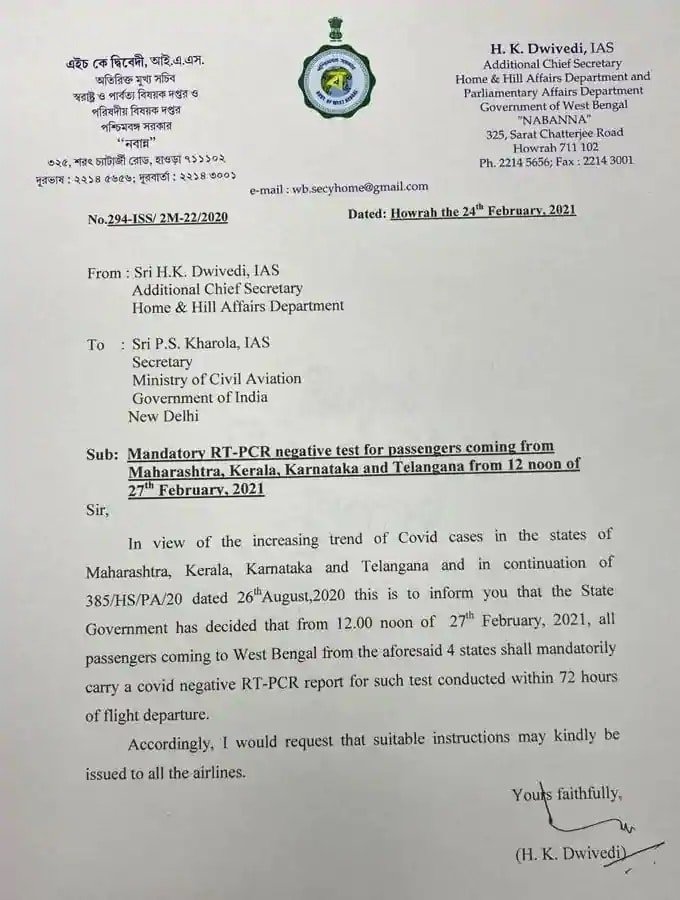 This comes after a sudden increase in the Covid-19 cases in the country and many states have imposed fresh entry restrictions for visitors and ask travelers from Maharashtra, Gujarat, Kerala, Madhya Pradesh, and Chhattisgarh to produce negative Covid-19 test report for entry.
Apart from West Bengal, a total of 13 more states have required negative Covid-19 (RT-PCR) tests report for visitors, especially those who are arriving by air, to limit the spread of new coronavirus variants.
Here is the name of states that need a negative RT-PCR test on or before arrival: Assam, Delhi, Himachal Pradesh, Jammu & Kashmir, Karnataka, Ladakh, Maharashtra, Manipur, Meghalaya, Mizoram, Odisha, Tripura, and Uttarakhand.
Meanwhile, West Bengal has registered two coronavirus-related deaths in a span of 24 hours, taking the death toll to 10,253, the health department has said.
Also Read: Delhi To Require Negative Covid-19 Test Report For Passengers From 5 States