Vistara, India's finest full-service carrier and a joint venture of Tata group and Singapore Airlines, has made history by becoming India's first airline to operate a wide-body aircraft using sustainable aviation fuel (SAF) on a long-haul route.
The airline operated a ground-breaking ferry flight from Charleston International Airport, South Carolina, to Indira Gandhi International Airport, Delhi in partnership with The Boeing Company and GE Aerospace on its newest GEnx-powered Boeing 787-9 Dreamliner aircraft, which is the fourth in its fleet.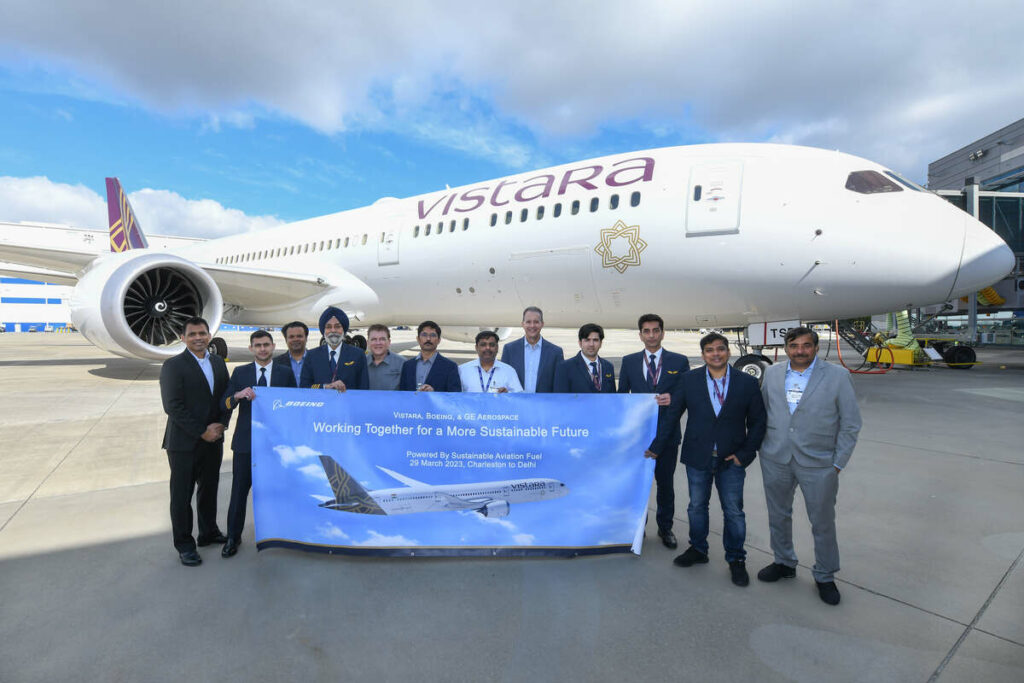 Significant Reduction in CO2 Emissions
By using a blend of 30% SAF with 70% conventional jet fuel, Vistara was able to reduce approximately 150,000 pounds of CO₂ emissions over the fuel's life cycle.
The airline's CEO, Mr Vinod Kannan, said that this initiative is an important milestone in their commitment to achieving carbon neutrality.
The airline has invested in modern and advanced aircraft with fuel-efficient engines, and it remains committed to reducing carbon emissions across all areas of its operations.
Partnerships for a Sustainable Future
Boeing and GE Aerospace congratulated Vistara on this milestone achievement. Mr Salil Gupte, President, of Boeing India, said that the company remains committed to working with Vistara and other partners to promote the use of SAF in the Indian aviation industry and around the world.
Mr Vikram Rai, Country Head – South Asia & Indonesia, GE Aerospace, said that collaborations like this encourage greater adoption of SAF globally and bring us closer to the goal of net zero by 2050.
Constant Focus on Sustainability
Sustainable Aviation Fuel (SAF) is a cleaner and more sustainable alternative to conventional jet fuel, lowering carbon emissions by up to 80% over the fuel's life cycle, depending on the feedstock. Vistara is constantly looking for improved ways to do business, keeping sustainability at the heart of those innovations.
This ferry flight on SAF is another industry-first initiative in India and a testament to the airline's commitment to sustainability.
Collaborations for Reducing Carbon Emissions
Vistara is currently working under the TATA Aviation Sustainability Working Group along with other aviation arms of the TATA group for reducing carbon emissions.
The airline has recently signed an MoU with the Council of Scientific and Industrial Research – Indian Institute of Petroleum to collaborate on the research, development, and deployment of sustainable aviation fuels (SAFs).
The airline will also be jointly working through the Carbon Offsetting and Reduction Scheme for International Aviation (CORSIA) to lower CO2 emissions for international flights and to curb the industry's impact on climate change.