Vietnam based low-cost airline Vietjet on Friday announced up to 50% discount on all new routes from India. The airline is offering this heavy discount for the limited time of Feb 20th – 29th, 2020.
To get 50% off on flight ticket fare travelers need to enter a Promo Code BOOKNOW50. The 50% discount will be given on airfare excluding VAT, airport fees and other surcharges.
Indian traveler can get a 50% discount on Vietjet flights from Ho Chi Minh city/Ha Noi to New Delhi/Mumbai sectors.
Booking time: Feb 20th – 29th, 2020
Travel Period: Feb 20th – Apr 27th, 2020
Starting May 14, the airline will operate five flights a week between New Delhi and Da Nang. It will also connect Mumbai with Hanoi and Ho Chi Minh City. Currently, the airline connects New Delhi, Ho Chi Minh City, and Hanoi.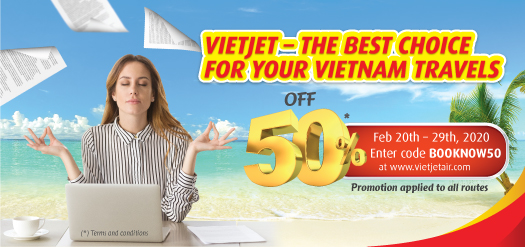 Booking channels:
Terms and Conditions:
Name change: Not allowed
Ticket refund: Not Allowed
Flight/Date/Route change: Allowed with a fee applicable under Promo ticket (if any)
Note: Promotional days are subject to change due to the availability of promotion fares
"Further expanding the international flight network, Vietjet connects many new, attractive and safe destinations with unique and beautiful culture such as Tokyo, Osaka, Nagoya, Fukuoka (Japan), Bali (Indonesia) and especially New Delhi and Mumbai, the two biggest hubs of India, with amazing destinations in Vietnam such as Hanoi, Ho Chi Minh City, Da Nang, Nha Trang, etc.
Equipped with a modern, fuel-efficient fleet, Vietjet's eco-friendly flights will bring new and emotional flying experiences to people and visitors at an altitude of 10,000 meters," said the airline's vice president Nguyen Thanh Son
To get travel updates directly on your mobile, save and send a message at 9461777617 on Whatsapp to start.
Also Read, Air India suspends China, Hong Kong Flights till June 30