The VFS Global on Friday informed that it will resume the passport submission service via two-way courier for all visa categories of Canada Visa effective 11 am (IST) on July 19, 2021.
"An important update for our Canada visa customers in India. Passport Submission Service via 2-way courier will resume for all visa categories effective 11:00 am IST on 19 July 2021." VFS Global Twitted.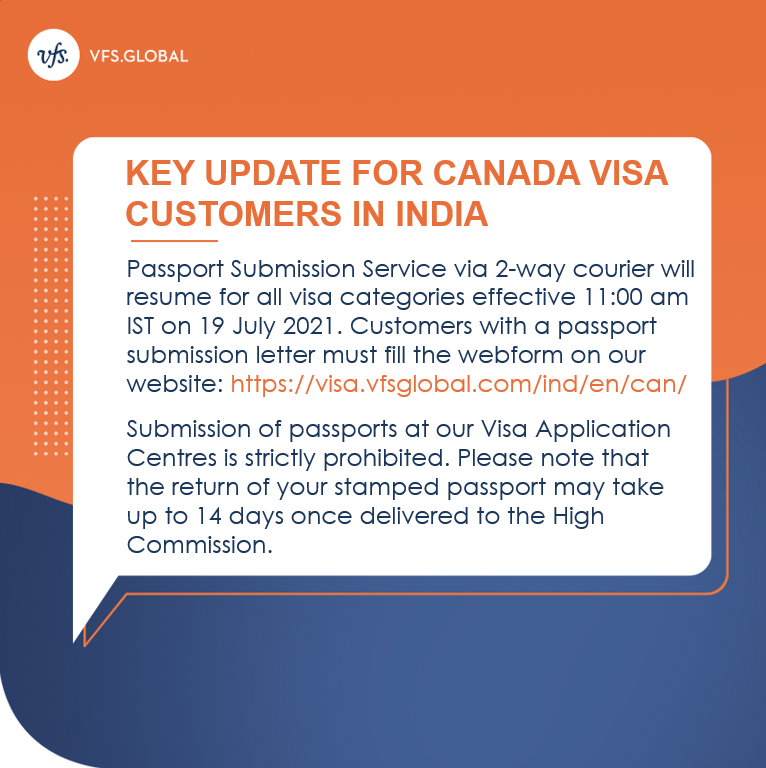 The VFS on its official website further said that;
Clients who receive a passport submission letter need to fill the passport submission webform
In Person submission of passport at Visa Application Centre is strictly prohibited.
Please note that you will need to allow up to 14 days for the return of your stamped passport once delivered to High Commission.
Canada has suspended all commercial and private passenger flights from India on 23rd April 2021 and the suspension will continue until July 21, 2021.
However, Canada on Thursday issues a new travel advisory and said that it will not accept the COVID-19 molecular test report from India. Therefore, the travelers have to get themselves tested for the coronavirus in a 'third country' before they continue their journey to Canada.
This means passengers from India who wish to travel to Canada in the said period may book a flight via an 'indirect route.'
Also Read: UAE: Flights From India And 5 Other Countries Suspended Until July 31, Says Etihad