In a much-awaited announcement, VFS Global has introduced its new hassle-free and streamlined visa application service for Egypt across 12 major cities in India. Notably, the VFS will process all four types of Visas including, Tourist visas, Business visas, Entry visas and Work Visa.
The leading global outsourcing and technology services specialist for governments and diplomatic missions aims to enhance the overall experience for Indian travellers applying for visas to Egypt.
"The wait is over! Enjoy our hassle-free, streamlined visa application service for Egypt across 12 cities in India. Just walk-in to our centres and elevate your experience by making the most of our value-added services," said VFS Global in a Tweet.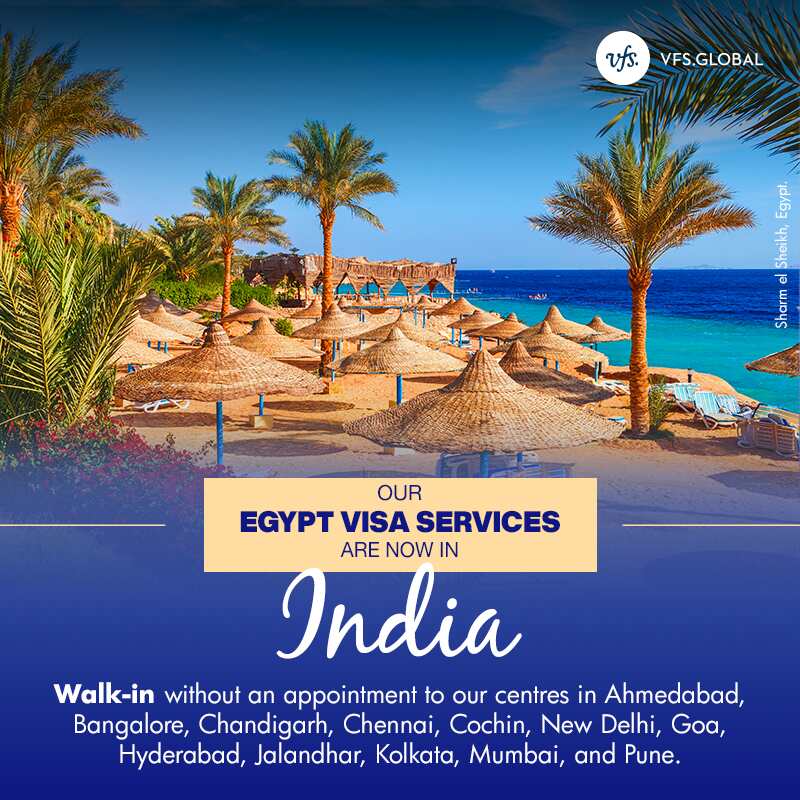 Accessible Across 12 Indian Cities
The 12 cities in India where VFS Global has established its visa application centres for Egypt include;
Delhi
Mumbai
Kolkata
Chennai
Bengaluru
Ahmedabad
Hyderabad
Kochi
Pune
Jaipur
Chandigarh
Lucknow
These strategic locations ensure accessibility for applicants across the country, catering to the diverse travel needs of Indian citizens planning to visit Egypt.
The process to Apply for Egypt Visa
Applying for an Egyptian visa through VFS Global is a simple and straightforward process. Follow these six steps to successfully obtain your visa:
1. Identify Visa Type
Begin by identifying the appropriate visa type for your trip to Egypt. Whether it's a tourist visa, business visa, or any other category, make sure you select the correct visa type that aligns with your purpose of travel.
2. Begin Your Application
Start your visa application by gathering all the necessary documents and information. This may include your passport details, travel itinerary, proof of accommodation, financial statements, and other supporting documents. Fill out the application form accurately and provide all required information.
3. Book An Appointment
Once you have completed your application, book an appointment at a VFS Global Visa Application Centre. Choose a convenient location from the 12 cities where VFS Global operates and select a suitable date and time for your appointment.
4. Pay Your Fees
Find out the exact visa application fees applicable to your visa type. The fees can vary depending on the category and duration of your visa. Ensure you have the required amount ready to be paid at the Visa Application Centre. VFS Global accepts various payment methods, including cash, credit/debit cards, and demand drafts.
| VISA CATEGORY | VISA FEE IN INR |
| --- | --- |
| Tourist Visa Single | 2700 |
| Tourist Visa Multiple | 5800 |
| Transit Visa Single | 5300 |
| Transit Visa Multiple | 8100 |
5. Visit a Visa Application Centre:
On the scheduled date and time of your appointment, visit the selected Visa Application Centre. Bring along all the necessary documents, your application form, and the payment for your visa fees. VFS Global staff will assist you in submitting your application and biometric data, such as fingerprints and photographs.
6. Track Your Application
After submitting your application, you will receive a tracking number that allows you to monitor the progress of your visa application. Utilize the tracking service provided by VFS Global to stay informed about the status of your application. You can track your application online or through the helpline provided by VFS Global.
By following these six simple steps, you can navigate the Egyptian visa application process smoothly and stay informed about the progress of your application. VFS Global aims to provide a hassle-free experience, ensuring that you can focus on preparing for your trip to Egypt with peace of mind.
Walk-in Convenience for Indian Travellers
With this new service, travellers can now simply walk into any of the VFS Global centres located across the 12 cities and benefit from an elevated visa application process. VFS Global has focused on creating a seamless and efficient system that minimizes complexities and reduces the time and effort required to obtain an Egyptian visa.
By leveraging its expertise in visa processing and customer service, VFS Global has designed a value-added experience for Indian travellers. The centres are equipped with state-of-the-art facilities and trained staff members to guide applicants through the entire application process.
The aim is to provide a stress-free experience, ensuring that customers can easily navigate the visa requirements and procedures.