VFS Global, an outsourcing and technology services company on Wednesday issued an update for its Italy Visa (Schengen Visa) customers in India and said that it has resumed Visa Application Centres in Pune and Ahmedabad starting 03rd Jan 2022.
The VFS has also said that resumed the Italy Visa services for all categories except Tourist Visas.
"For the kind attention of our customers in India. We have resumed services at our Italy Visa Application Centres in Pune and Ahmedabad for select visa categories with stringent safety measures in place," VFS Global said in a Tweet.
VFS Global Italy Visa Updates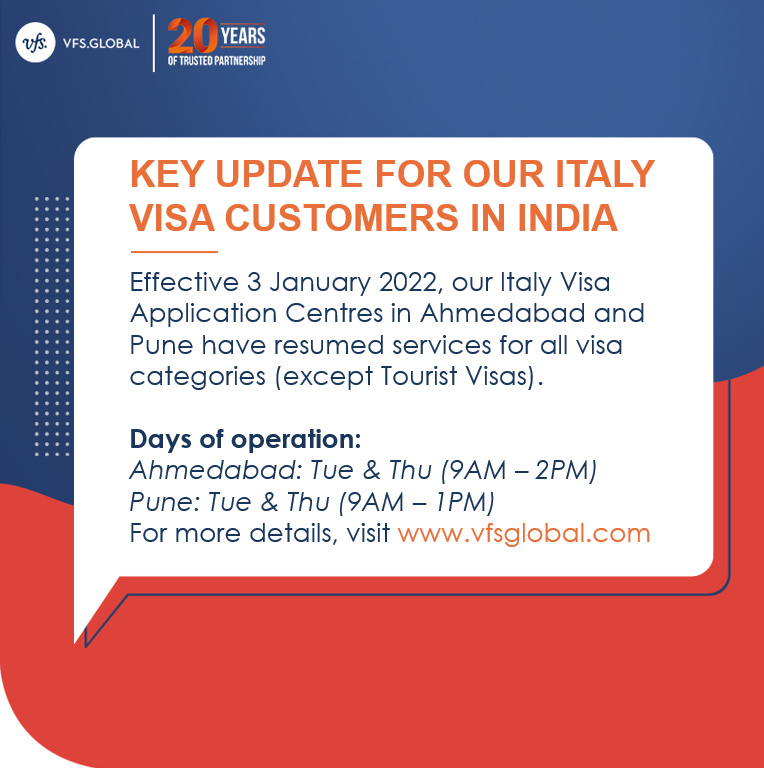 Starting from 03rd January 2022, the Italy visa application in Ahmedabad will be operational on Tuesdays and Thursdays between 09:00- 14:00.
With effect from 4 Jan 2022, select category of visa applications can be submitted at the Pune Italy Application Centre on Tuesday & Thursday between 0900 hrs to 1300 hrs.
Recently the VFS Global has also extended its services of biometric enrolments of Ukraine Visas for Indian customers.
Ukraine Visa customers in India can now visit the VFS Global Visa Application Centres in New Delhi, Mumbai, Chennai, Kolkata, Ahmedabad, Bengaluru, and Hyderabad by prior appointment for the complete visa application process.