VFS Global, the world's largest visa processing company, has announced that it is currently experiencing intermittent technical difficulties on its appointment booking page for Schengen visa applicants in India. The issue is affecting Austria, Denmark, Germany, Italy, Portugal, Sweden, and Switzerland.
Due to increased demand for Schengen visas, the appointment booking page is experiencing intermittent technical difficulties, causing some visa applicants inconvenience.
VFS Global, on the other hand, has assured that its teams are working hard to resolve these issues as soon as possible.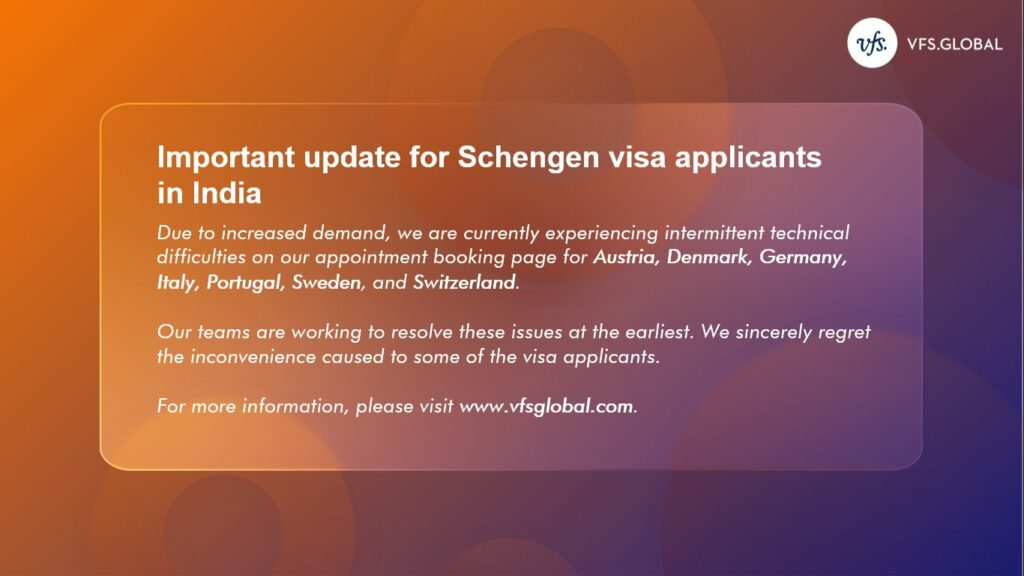 Update for Schengen Visa Applicants in India
In a statement, VFS Global said, "We sincerely regret the inconvenience caused to some of the visa applicants. We are working hard to resolve these issues as soon as possible."
Meanwhile, VFS Global has also notified its customers that the online appointment booking system is currently undergoing system maintenance. As a result, some customers may experience difficulties while completing the process. However, VFS Global has assured us that it is working on resolving the issue quickly.
System Maintenance Is In Progress
"We are currently experiencing difficulties with our online appointment booking system which may result in some customers being unable to complete the process. We are working on quickly resolving these issues and would recommend that affected customers try again later," said VFS Global on its official website.
Schengen visa applicants in India are advised to visit the VFS Global website for more information on technical difficulties and system maintenance. However, VFS Global has assured that its teams are doing their best to minimize the impact of these issues and provide a seamless experience to its customers.
Schengen Countries Ease Visa Rules
According to VFS Global, several Schengen area countries are making significant policy changes to ease Schengen visa rules in order to meet high travel demand.
According to Prabuddha Sen, Chief Operating Officer – South Asia, VFS Global, Traditional tourist destinations such as the United States, European countries Switzerland, France, Italy, the Netherlands, and the Nordic countries have seen a significant increase in travel demand.
Furthermore, in order to meet the high demand for travel, Schengen countries are implementing significant policy changes to simplify visa requirements. Switzerland, in particular, is experiencing high travel demand and has increased visa appointment slots to meet it.