VFS Global, the official partner of UK Visas and Immigration (UKVI) on Friday issued an update and announced changes to the availability of Priority Services (PV) for new visit visa applications.
In the update, VFS Global said that starting today (July 15th), the volume of PV appointments will be reduced to enable UKVI to process more standard applications and gradually reduce the overall processing time for all customers.
Please note that PV appointments for new visit visa applications must be purchased online during the appointment booking process and cannot be purchased in the Visa Application Centre or retrospectively. SPV appointments can be purchased online during the appointment booking process, VFS Further added.
It must be noted that the Priority and Super Priority services for new study, work, and family applications are still suspended. UKVI will continue to monitor this situation and will offer updates whenever these services are ready to restart.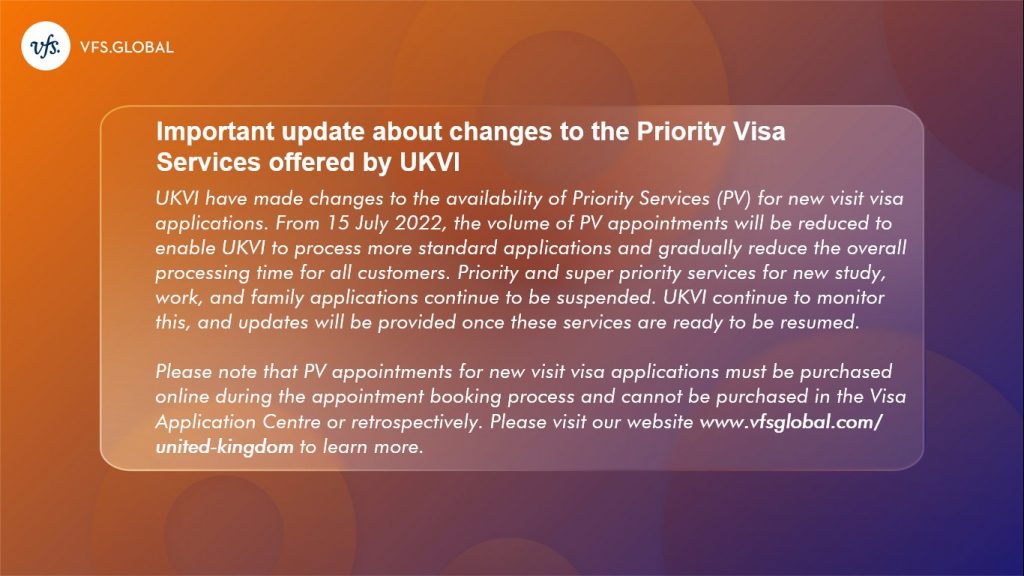 However, both Priority (PV) and Super Priority Services (SPV) is available for all other categories of the United Kingdom visas;
UK Visa Priority Service
If you verify your identity at a visa application centre and the service is available in the country from which you are applying, you can select the 'priority service' option when applying. This service will be charged you extra. And you will get a decision within 5 working days of your appointment at the visa application centre.
UK Visa Super Priority Service
UK Visas and Immigration intends to make a decision on your super priority visa application and contact you by the end of the next working day after you provide your biometric information.
UK Visas and Immigration Update Processing Times
The UKVI recently revised visa processing times for a variety of visa categories, including Visits, Transit, Study, Work, and Family Visas. The updated processing time for popular visas and services of UKVI will be as following;
| | |
| --- | --- |
| Visa Type | Waiting Time |
| Visit the UK | 6 Weeks |
| Travelling through the UK | 6 Weeks |
| Study in the UK | 3 weeks |
| Work or invest in the UK | 5 Weeks |
| Join the family in the UK | 24 weeks |
| Returning residents | 3 weeks |
| Replacing biometric residence permits | 3 weeks |
| Transfer your visa from your passport | 3 weeks |
| Certificate of entitlement | 3 weeks |