VFS Global, an outsourcing and technology services company for governments and diplomatic missions worldwide has issued an update for its Canada Visa customers in India.
Canada Visa customers can now fill in the web form to get their biometric appointment for free.
The VFS in a statement on its website said;
Owing to the increased demand for travel to Canada, effective 1600hrs Friday, 17th December 2021 customers of the Canada Visa Application Centres (CVAC) in India will only be able to schedule biometric appointments by completing the appointment booking web form:
Important: The existing online appointment system will no longer be available after 1200hrs on Friday, 17th December 2021.
All existing appointments booked via the online appointment system will be honored at the VACs; customers are requested not to double book appointments for themselves.
Please note that until further notice, the only method of booking an appointment for biometric enrolment at the Canada Visa Application Centres in India will be via the web form.
Prior appointment is mandatory to visit the Canada Visa Application Centre.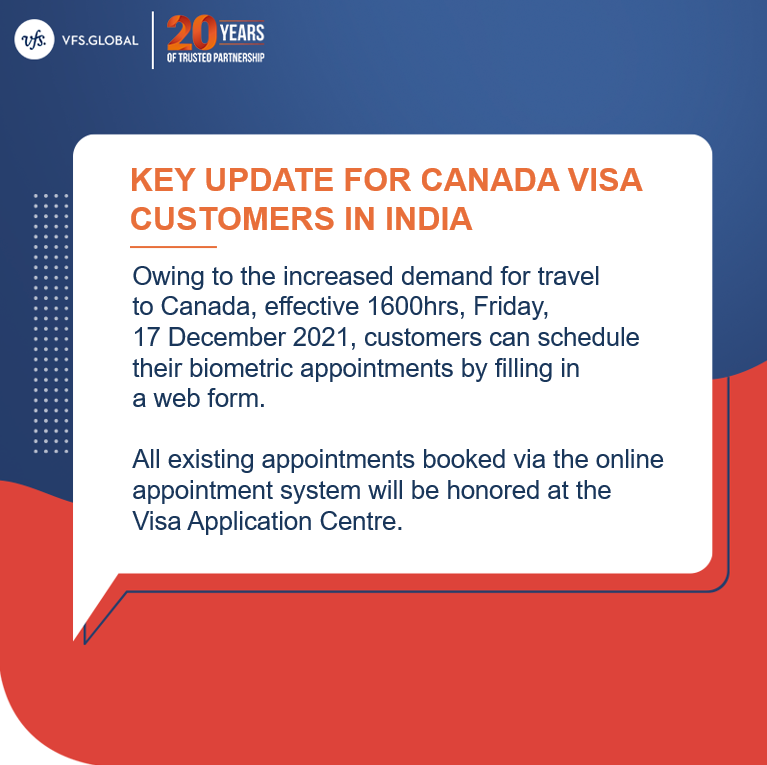 Customers will be required to bring the following documents when they visit the CVAC
The Biometric Instruction Letter (BIL) as received from IRCC
The completed VAC Consent Form
Copy of the VFS issued appointment confirmation email and/or SMS notification.
Passport/Travel document
1 piece of Government issued Photo ID.
Important: Please book your appointment using the same name and Date of Birth on your passport or travel document. The VACs will turn away clients if the name and Date of Birth on your appointment letter do not match your passport or travel document.
In light of the latest Government of Maharashtra order, all customers need to be fully vaccinated (please ensure completion of 14 days post administration of 2nd dose) in order to be permitted entry into our Visa Application Centre in Mumbai and Pune. All customers will be required to provide proof of vaccination at the entry of our office by;

A physical COWIN Certificate or,
Confirmation via Arogya Setu app, or
Providing a universal ID as issued by Government of Maharashtra. Partially or unvaccinated customers will require to take a fresh appointment. We request your cooperation on the above policy adherence to ensure we are able to provide a safe environment to our customers.
Please note, you must bring your Biometric Instruction Letter (BIL) to your biometric appointment along with your valid permit document to the VAC to confirm that you are a student or a returning student.