VFS Global on Thursday issues an update regarding the resumption of operation at Visa Application Centres in Goa starting July 01.
In its update, the VFS Global said that, From 01 July 2022, our Visa Application Centres in Goa, India, will resume operations for the following missions:
Belgium
Czech Republic
France
Germany
Hungary
Japan
Latvia
Lebanon
Norway
South Africa
Thailand
Vietnam
It must be noted that the working hours at Goa Visa Application Centres will be 08 AM to 03 PM and for the Czech Republic, it will be 09 AM to 01 PM.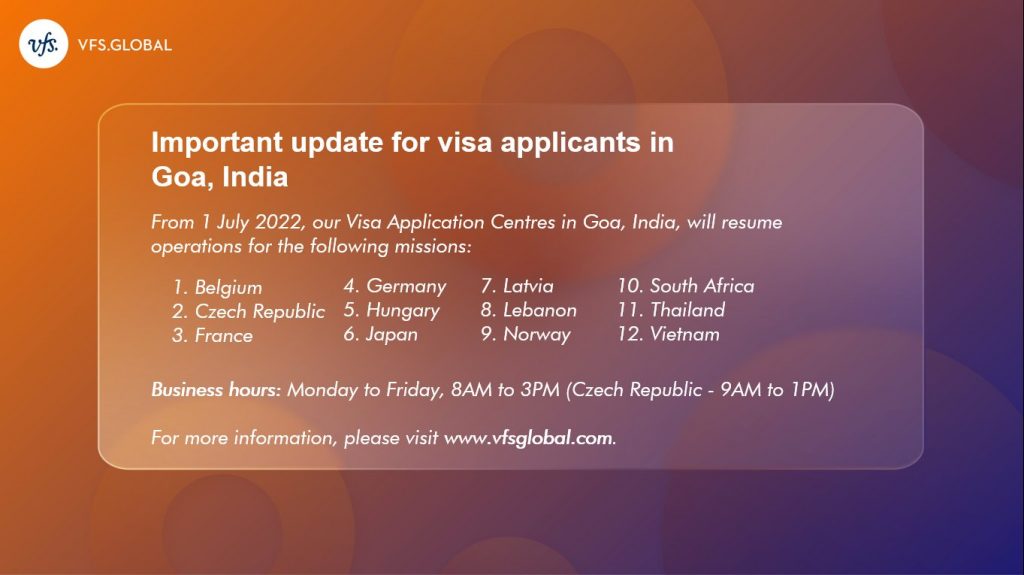 Anyone interested in applying for a visa to one of the countries mentioned above can go to the Visa Application at the location shown below.
VFS Global Goa Address: Gera Imperium Grand, 6th Floor, Office No. 619, 629, 621, Patto, Behind Ginger Hotel, Panaji, Goa 403001
Delay in Visa Processing
It is worth noting that obtaining a Visa for the United Kingdom, the United States, Canada, and most European nations may take substantially longer.
The situation comes, as most countries have lifted the Covid-related travel restrictions and resumption of scheduled international flights, and many Indian travellers are gearing up to travel abroad.
According to a VFS Global official;
"There has been an unprecedented uptick in outbound travel demand from India to many parts of the world this summer. Given the extremely high pent-up demand, this was expected with the opening of international borders, easing of travel restrictions and resumption of regular international flights from India in March 2022."
The VFS Global receives around 20,000 visa applications per day from India, comparable to the level seen during the pre-pandemic peak season.