Emirates, the flagship carrier of UAE on Friday announced that the suspension on incoming scheduled passenger flights from India, Pakistan, Sri Lanka, and Bangladesh has been extended until at least July 28.
Moreover, passengers who have connected through the above-mentioned countries over the last 14 days, too, will not be accepted to travel from any other point to the UAE.
Emirates in response to a customer's inquiries on Twitter said,
"Our flights from India are suspended until the 28th of July. But, that can change at any time."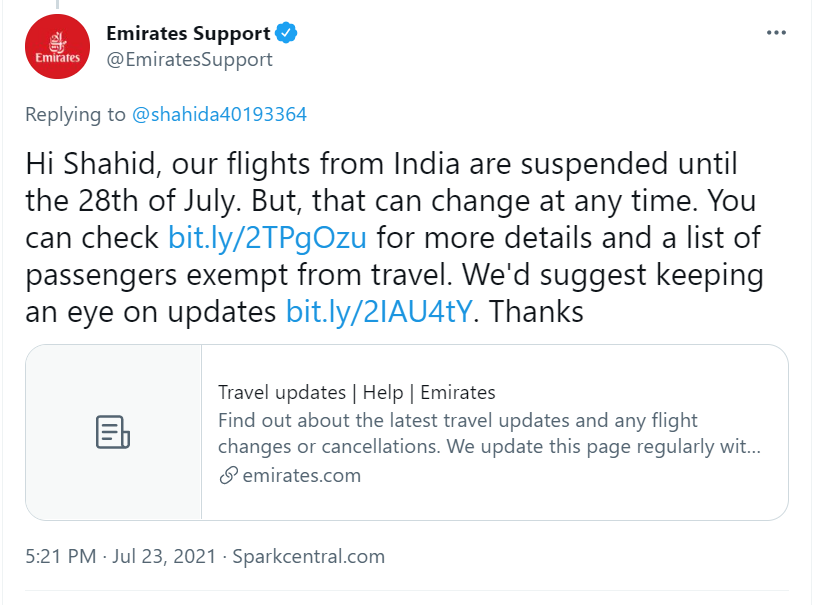 The airline further added that customers can check https://bit.ly/2TPgOzu for more details and a list of passengers exempt from travel. We'd suggest keeping an eye on updates https://bit.ly/2IAU4tY.
GCAA Extends Ban On Flights
It must be noted that the General Civil Aviation Authority (GCAA) on Wednesday confirms that international flights to UAE from India and 15 others countries will remain suspended until 31st July.
The list of other countries includes Afghanistan, Bangladesh, the Democratic Republic of Congo, Indonesia, Liberia, Namibia, Nepal, Nigeria, Pakistan, Uganda, Sierra Leone, South Africa, Sri Lanka, Vietnam, and Zambia.
Who Can Travel To UAE?
UAE nationals, holders of UAE Golden Visas, and members of diplomatic missions who comply with updated Covid19 protocols are exempt and may be accepted for travel, Emirates said.
UAE Nationals and Citizens
Holders of UAE Golden Visas and Silver Visa
Members of Diplomatic Missions accredited by both countries
Official Delegates
Those travelling on business/private planes.*
---
Follow and connect with us on Facebook, Twitter, Linkedin, Instagram and Google News For the latest travel news and updates!
---
Also Read: Emirates Starts Quarantine Free Flights To 40 Destinations, Offers Special Fare