As the Coronavirus cases continue to decrease the United Arab Emirates (UAE) has decided to allow Indian passport holders, who have not been to the country in the last 14 days, to obtain tourist visas.
Apart from India, a similar facility will also be extended to citizens of Nepal, Nigeria, Pakistan, Sri Lanka, and Uganda.
The decision comes as the United Arab Emirates is looking to eases the travel restrictions gradually.
Dubai-based low-cost carrier Flydubai has also announced this on its official website, "Passengers carrying passports of India, Nepal, Nigeria, Pakistan, Sri Lanka or Uganda with tourist visas can be accepted if they have not entered or been in those countries in the last 14 days."
"If you are a UAE resident, GCC citizen, or visitor arriving in Dubai, regardless of where your journey originated, you must be able to present a negative COVID-19 PCR test result (from a test taken in the country of departure no more than 72 hours prior to the departure of your inbound flight to Dubai)," said flydubai on its website.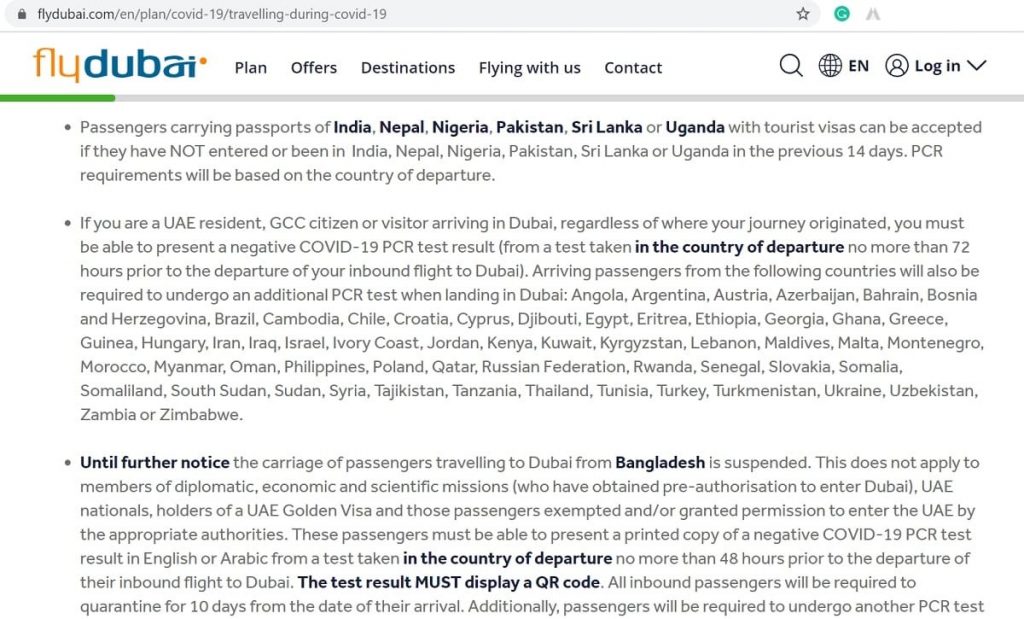 However, all travelers would have to undergo a Polymerase Chain Reaction (RT-PCR) test on the day of arrival and on the 9th day after arrival in the country.
It is important to note that currently, only resident visa holders of the UAE and transit passengers are allowed to fly to the UAE.
UAE has imposed restrictions on flyers from India, Nepal, Nigeria, Pakistan, Sri Lanka, and Uganda earlier this year to contain the spread of the Covid-19 pandemic.
Covid-19 Test and Quarantine Rules In UAE
The fresh guidelines that come a day after the UAE on Saturday said that Indian passengers can take a rapid PCR test six hours before their departure instead of four hours now. The UAE has made this test mandatory for passengers from India, Pakistan, Nepal, Sri Lanka, Nigeria, and Uganda.
The UAE has also resumed visas on arrival for only those Indians nationals who have a visa or residence permit issued by the USA, United Kingdom, or an EU Member State.
For passengers arriving at Abu Dhabi (AUH) and Ras al-Khaimah Airports (RKT), 10 days home quarantine upon arrival in RKT and 12 days home/institutional quarantine in AUH is mandatory.
Further, passengers would be required to wear a medically approved wristband, provided by the authorities at the airport after clearing immigration.
Passengers are mandated to download and register on the Alhosn app, using the UID and phone number.
Also Read: Inter-State Travel: These States Not Require Negative RT-PCR Test Report For Travel