The General Authority of Civil Aviation (GACA) of Dubai on Tuesday extends the suspension of passenger flights from India till 06th July 2021.
However, the restrictions will not apply to UAE nationals who wish to travel back to the United Arab Emirates.
UAE Extends Flight Suspension From India
Informed about the extension, Air India Express said, "General Authority of Civil Aviation, UAE, has suspended all inbound passenger movement to the UAE from India, (excluding UAE nationals) till 6th July 2021. Passengers who booked to fly with us during this period can reschedule their tickets for travel at a future date."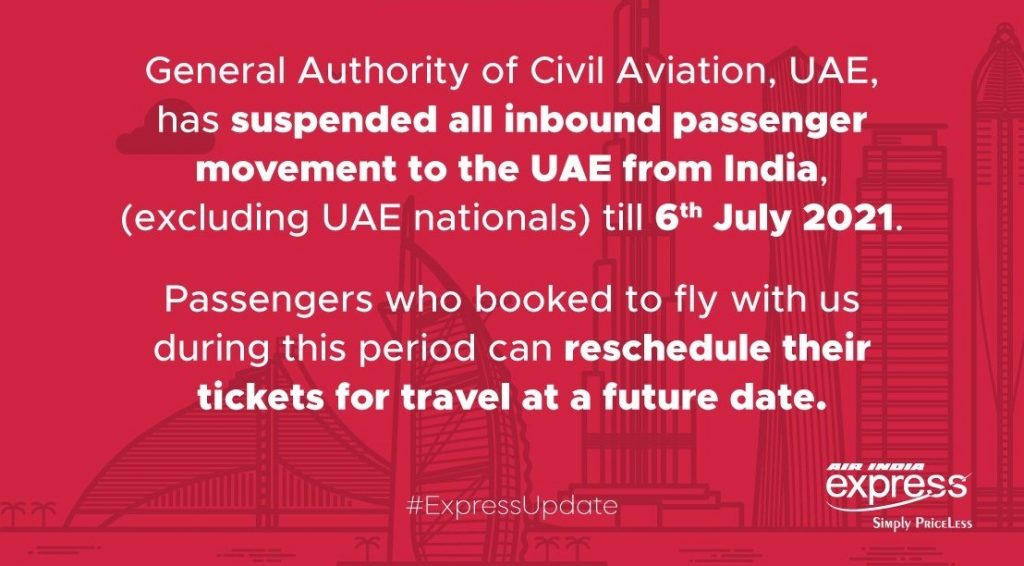 It must be noted that due to the surge in Covid-19 cases in India, UAE has imposed restrictions for 10 days starting from 11.59 pm on April 24 but the authorities keep extended the same.
The suspension was about to end on 30th June but now the same has been extended for a week.
Who Can Travel To UAE?
Only certain categories of people are allowed to travel to the UAE which includes citizens, diplomatic delegations, official delegations, and flights of businessmen are categories that are exempted from this restriction.
Also, travelers coming from India through other countries are required to provide proof of a period of stay in those countries of no less than 14 days to be allowed to enter the UAE.
RT-PCR Test Requirement
The Dubai Health Authorities also announced that starting from 22nd April 2021, all passengers traveling from India to Dubai will be required to take a Covid-19 (RT-PCR) test within 48 hours before departure and all tests must be administered by accredited laboratories that issue results carrying a QR code.
Dr. Ahmed erred on the side of caution and maintained that the resumption of flights would largely depend on how the Indian government managed to rein in the spread of the contagion after the June 14 deadline expired.
Also Read: IndiGo To Operate Daily Flights Between Darbhanga And Kolkata, Hyderabad From July 05