If you're looking for a new way to explore the world and its beauties you should definitely consider a small ship cruise. You'll spend less time at sea than you would on larger cruise ships which means more time to explore picturesque ports and cities. Small ship cruises come in various offers and types so you can find something that fits you the most; it could be sailing the Pacific Ocean or the world's largest rivers on impressive private charter cruises or traversing the uniqueness of the inland waterways on several days tours! Small ship cruises have plenty of benefits to offer and you can check out the best ones below.
Suitable for various budgets
One of the best benefits of small ship cruising programs is that they offer a wide range of prices and have something for everyone's pocket. Sometimes, you can find reduced fares on transatlantic repositioning cruises or shorter itineraries. Although small ship cruises can be pricier than the big boat ones because the cost isn't shared between thousands of passengers but only several, you can still find less expensive programs by consulting your travel agent.
Flexible for every passenger
Are you looking for a cruise that's as flexible and personal as you are?  If so, a small ship cruise may be the perfect fit for you. These types of cruises allow passengers to plan their own itineraries on an intimate scale, while still enjoying all the amenities of a larger vessel. These ships are just big enough to feel like home without losing any of the luxuries that a large ship provides. Whether looking for adventure or relaxation, there's something aboard this boat to suit all of your cruising needs!
Unique experience is guaranteed
Small ship cruises offer an unforgettable experience. They're just as relaxing and enjoyable as large cruise ships, but they have a different feel to them. Smaller ships allow passengers to get up close to the ocean without being overwhelmed by too many people or activities at once. This isn't to say there aren't plenty of things to do onboard. In fact, you can enjoy your time on a small ship cruise by scuba diving, kayaking, sail-boarding, and more! Exciting and relaxing at the same time, a small ship cruise may be the best way to spend your vacation.
They can cruise the world
You can actually see the whole world in a small ship cruise; it can navigate into farther and tighter places that larger vessels can't access. The river ones can even go inland and expedition cruises can also travel to remote places. Therefore, it's ideal for people who love cruises and have a passion for exploring new sights and traveling the world!
Guidance from experts
Small ship cruises are great for making trips more memorable, especially if the tour guides are good and know what they're doing. When you choose a quality program the tourist guide dream team will include different professionals who're not just knowledgeable, but also friendly and eager to help you have the experience of a lifetime.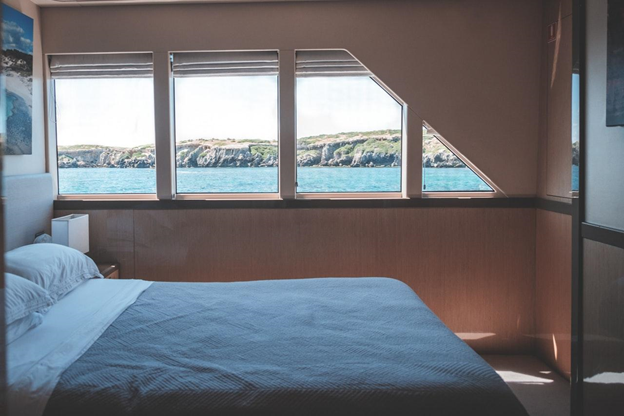 Individualized Treatment
Small ship cruises have great service teams that will tend to all of your needs from the moment you step onboard until you step out. Unlike on a big ship cruise, on a small one, you won't need to get up early to get an empty table at the breakfast buffet. Expect a more intimate atmosphere: you'll be able to enjoy pleasant and relaxing moments without having people getting by all the time. In the best-case scenario, the expedition team will even know your name and needs. Indeed, personalized attention is something small cruise ships are popular for.
You'll make friendships for life
It's amazing to learn that some of the best friendships are formed on cruises. And, it's no wonder that you make lifelong bonds when you spend a week or two with around 30 passengers whom you'll be seeing on a daily basis. This isn't necessarily the case with big ship cruises where you won't even see the same people twice! The cruise will help you explore similar interests and recap on them during dinner or drinks. And, this may also mean that you have future travel buddies!
Good for the environment
Big cruise ships have gigantic diesel engines which add to pollution. And, add the sewage from around 3000 to 5000 people per day to it and you get a really non-eco-friendly holiday. On the other hand, if you're into sustainability, a small ship cruise has a much smaller impact on the environment. You may even get a reusable bottle on board rather than being offered single-use plastic cups and the ships may burn marine gas oil that's cleaner. Plan a small ship cruise with a company that has conservation as a goal, not just profit, and sail without a worry on your mind!
Final Thoughts
Although the cruise you choose will ultimately depend on your needs, preferences, and budget, a small ship cruise has a long list of benefits to create a memorable holiday for you and your family. If you're into sustainability, forming strong friendships, and exploring remote locations, booking a trip on a small boat may be the experience you've been craving for!
Also Read: Cruise Service Starts Between Surat And Diu