Thailand, a popular Southeast Asian country known for its tropical beaches, and opulent royal palaces has eased its travel requirements starting Monday, 01 May 2022 and also ends all three current entry channels, namely Test & Go, Sandbox, and Alternative Quarantine.
From now, there will be only two simple categories Vaccinated or Unvaccinated, and how a traveller enters Thailand will depend on their vaccination status.
New Entry Requirements For Thailand From May 01
1. Vaccinated Travellers
Those who are fully vaccinated according to the Thai Health Ministry are not required to undergo any pre-arrival or on-arrival RT-PCR tests. Such travellers are also no longer required to book a one-night hotel stay in order to obtain visas.
No pre-departure or on-arrival RT-PCR tests.
No need to book a one-night hotel stay.
Travel insurance has been reduced to $10,000.
COVID-19 Antigen Self Testing Kit (ATK) in case you have symptoms.
All travellers must have an approved Thailand Pass to enter Thailand.
2. Unvaccinated Travellers
Those who do not have vaccinations or have not been fully vaccinated according to the Thai Health Ministry are not required pre or on-arrival RT-PCR tests. However, they need to register through Thailand Pass with a 5-day advance hotel booking and travel insurance. Unvaccinated travellers are also required to undergo an RT-PCR test on Day 5.
No pre-departure or on-arrival RT-PCR tests.
Register on Thailand Pass with a 5-day advance hotel booking
RT-PCR test on Day 5.
All travellers must have an approved Thailand Pass to enter Thailand.
Step By Step Process To Apply for Thailand Pass
As previously stated, the requirement of Thailand has still in place and all vaccinated or unvaccinated travellers must get a Thailand Pass in order to enter the Kingdom.
So we've put together a comprehensive step-by-step guide to help you understand about the process of applying for a Thailand Pass under the new system.
What is the Thailand Pass?
A: The "Thailand Pass" system (https://tp.consular.go.th/) is a web-based system developed by the Ministry of Foreign Affairs in cooperation with the Digital Government Development Agency (DGA). The system allows Thai and foreign travellers to fill in their travel and health information and upload the related documents before travelling. The purpose of the system is to support the "Ease of Traveling" policy, which will be implemented after the reopening of the country.
Step 1: Visit the official website of Thailand Pass
You can access the official website of Thailand by clicking here: https://tp.consular.go.th/. Once there, you can choose between Non-Thai Nationals and Thai Nationals.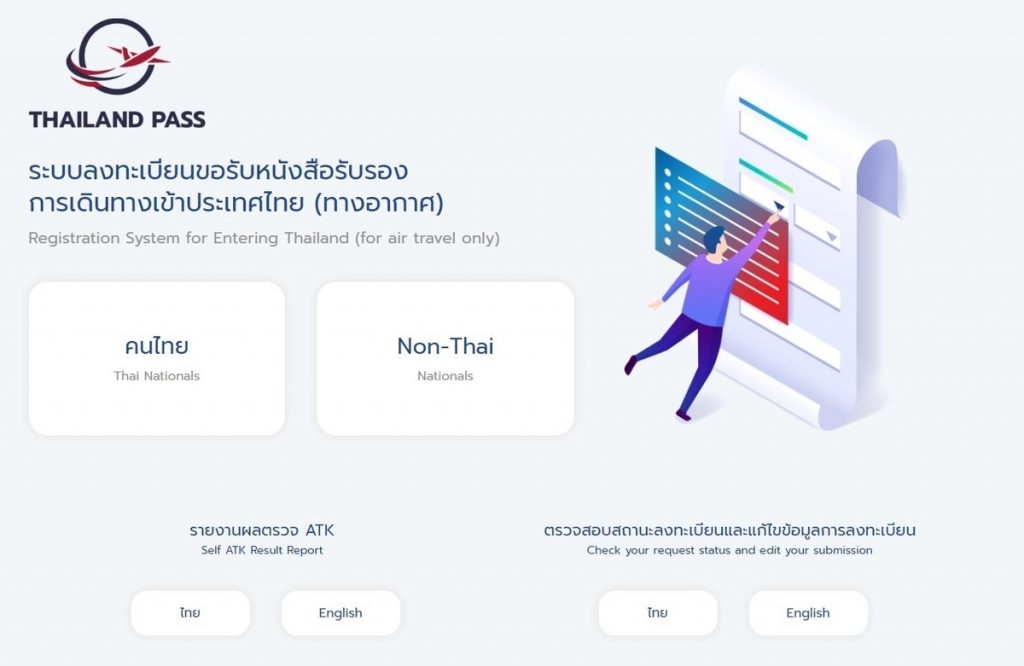 Step 2: Select Entry Program
Once you've chosen your nationality, you'll be taken to the following page, where you can choose between No Quarantine and Alternative Quarantine entry program.
No Quarantine programme for fully vaccinated tourists entering any international airport in Thailand, or for those who are unvaccinated but have RT PCR test results. Unvaccinated children under the age of 18 must be added to their parents' application.
Alternative Quarantine scheme for partially vaccinated and unvaccinated passengers who will be undergo mandatory quarantine upon arrival into Thailand.
Step 3: Purpose of Arrival
Once you select the entry program you will be asked to accept terms and conditions to compliance with disease prevention measures of the Government of Thailand.
After clicking 'Agree' and hitting the confirm button, you will be taken to a new page where you must enter your Purpose of Arrival including Flights Details and date of Arrival and Departure from Thailand.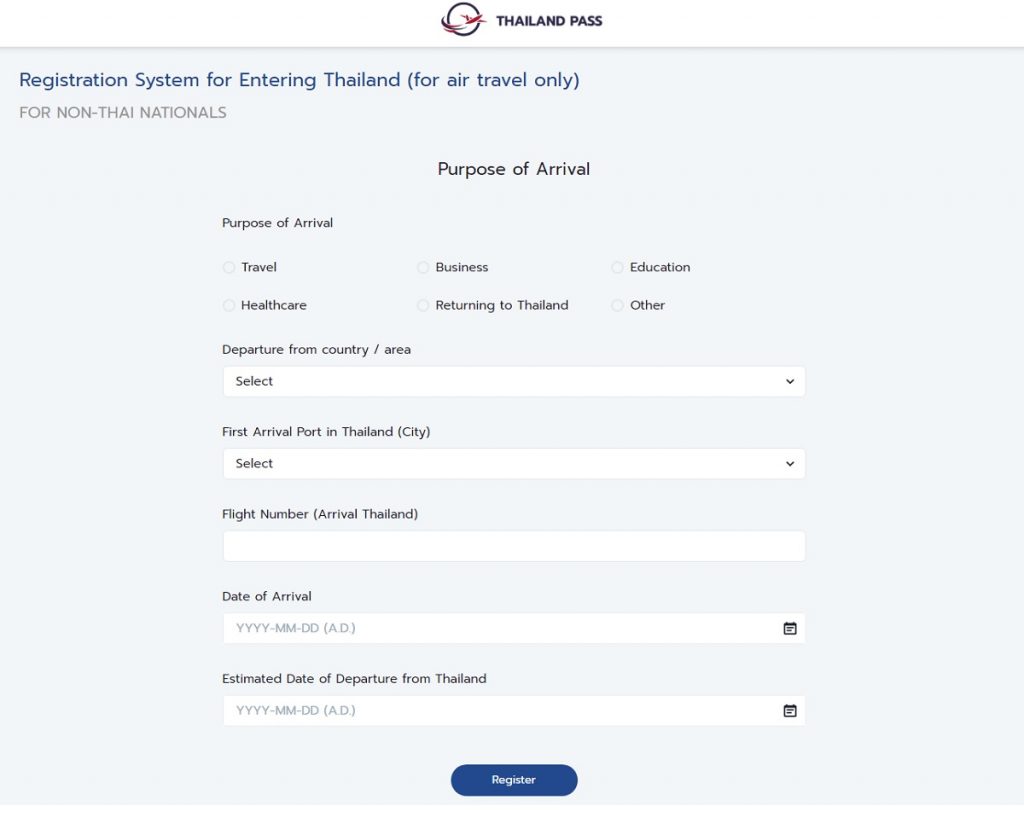 Step 4: Enter Your Personal Information
On the next step you have to enter personal information, which includes your full name as it appears on your passport or travel document, nationality, passport number, date of birth, and email address.
We recommend that you double-check the spelling of your personal information before moving on to the next stage. When applying for a Thailand Pass, it is also recommended that you use a Gmail email address.
Step 5: Upload Vaccination Certificate or Negative RT-PCR Test
In this section, you will provide information about your vaccinations. You need to enter the name or brand of your vaccine as well as the date of vaccination. It must be noted that you can only be able to upload the vaccination certificate in a JPG or PNG format.
It is recommended that you must upload the QR code of your vaccination certificate, if available, to expedite the processing of your Thailand Pass.
If you apply under the No Quarantine Program and are not completely vaccinated, you may upload a copy of your RT PCR test result in lieu of a vaccination certificate issued within 72 hours before departure.
Step 6: Enter Your Address in Thailand Or Hotel Details
Once you submit the vaccination details and click on the next button, you will be asked to provide the details of your address in Thailand or details of your hotel reservation.
Step 7: Submit Details of Covid-19 Insurance
 You will have to provide the Covid-19 Insurance in this phase. You must provide the policy number and start date of the insurance policy, as well as submit a one-page document including your certificate of insurance.
Step 8: Review Your Thailand Pass Application
This is the final step in the application process. Your application will be summarized. Please double-check all of the information you've entered, and if everything is correct, you can submit the application.
Your 6-digit access code will then be shown on your screen and forwarded to your registered email address.
Thailand Pass Validity
The validity of Thai pass is revised to +/- 7 days. The earlier validity of Thailand pass was D+72 Hrs.
"The Civil Aviation Authority of Thailand has been informed by The Department of Consular Affairs, Ministry of Foreign Affairs that from 18 April 2022 onwards the validity of the Thailand Pass QR Code has been revised from the initial 72 hours to +/- 7 (seven) days."
Please kindly note that the revised validity of 7 days is applicable for both travels before and after the date as initially stipulated on the Thailand Pass QR Code. Passengers are not required to re-apply for a new Thailand Pass QR Code should the revised travel schedule falls within the 14-day range. All Thailand Pass QR codes issued are applicable for only one-time entry into Thailand and may not be re-used.
Passengers without proof of documentation to support the revised travel schedule are not eligible to travel to Thailand until all documentation are updated accordingly"
Check Status of Thailand Pass
You may check the status of your Thailand Pass application here: https://tp.consular.go.th/en/check-status. If your Thailand Pass status is 'Reviewing,' it means you'll have to wait a day or two for a conclusion. If the status of your Thailand Pass is 'Approved,' you can download the file or save it to your mobile phone.
On Arrival Requirements
Upon arriving in Thailand, all travellers must undergo entry screening including body temperature check, and present the required documents to the Immigration/Health Control officer to carry out the checks.
The vaccinated travellers will then be allowed entry and are free to go anywhere in the kingdom. *For arrivals by land using a border pass, they will be allowed a stay of no longer than 3 days within the specified areas only.
Likewise, unvaccinated/not fully vaccinated travellers who have uploaded proof of a negative RT-PCR test within 72 hours of travel via the Thailand Pass system will be allowed entry and are free to go anywhere in the kingdom.
Otherwise, unvaccinated/not fully vaccinated travellers must proceed to undergo the quarantine for 5 days. The trip to the prebooked accommodation must be by a prearranged vehicle on a sealed route within a travelling time of no longer than 5 hours.
Then, they must undergo an RT-PCR test on Day 4-5. Travellers under 5 years of age, travelling with parents and undergo the quarantine together, can have a saliva test. Travellers whose test result returns as negative will be allowed to go anywhere in the kingdom, while those whose test result returns as positive will be referred for appropriate medical treatment and the expenses must be covered by the required insurance/own expense for foreign travellers, or national healthcare coverage for Thais and eligible foreign expatriates.
During The Stay
While in Thailand, both vaccinated and unvaccinated / not fully vaccinated travellers are advised to strictly follow the health and safety standards. Travellers who are experiencing COVID-like symptoms should get tested. If testing positive, they must get the appropriate medical treatment.
Visa Requirements For Thailand
Thailand Visa For Tourists
For tourism purposes, there are currently two types of visa, for which travellers may apply online at www.thaievisa.go.th.
Tourist visa (single entry): for stay up to 60 days with possible one-time extension of 30 days.
Special Tourist Visa (STV): for stay up to 90 days with possible extension of 90 days twice.
Kindly note that a valid visa or re-entry permit is required for the Thailand Pass application, except passport holders of countries/territories entitled to a 30-day visa exemption (see list).
Thailand Visa On Arrival (VoA)
Foreign travellers can apply for a Visa on Arrival (VOA), but they are still required to apply for a Thailand Pass before flying to Thailand. However, the VOA will be granted for only 15 days without possible extension.
Also, currently, only passport holders of;
Bulgaria
Bhutan
China
Cyprus
Ethiopia
Fiji
Georgia
India
Kazakhstan
Malta
Mexico
Nauru
Papua New Guinea
Romania
Saudi Arabia
Taiwan
Uzbekistan, and
Vanuatu may apply for the VOA.
Currently, the VOA can also be applied online through VFS Global, the officially authorised partner of the Immigration Bureau of Thailand for (E-VOA) at https://thailandevoa.vfsevisa.com/thailand/home/index.
Sticker-less Electronic (SE) Visa service
Available in 21 Thai Embassies and Consulates-General in 9 countries; namely. Canada, China, Denmark, France, Norway, Republic of Korea, Sweden, the United Kingdom, and the United States. The SE Visa service will be made available in more countries around the world in the near future.
SE Visa applicants can submit their applications, pay the visa fees, and receive their stickerless e-visas through the website: www.thaievisa.go.th without visiting the Embassies or Consulate-General offices. After the SE Visa application has been approved, a confirmation e-mail will be sent to the applicants. Information on the visa will be linked to the immigration system; however, it is recommended that travellers print a copy of the confirmation e-mail to present to the airline and Thai Immigration officials to carry out checks when travelling to Thailand.
Kindly note it is currently not possible to cross the border and re-enter Thailand for a visa extension.
For more information on different visa categories for other purposes than tourism, see www.thaievisa.go.th.
---
Follow and connect with us on Facebook, Twitter, Linkedin, Instagram and Google News For the latest travel news and updates!
---