The Tourism Authority of Thailand in an official update informed that Thailand e-Visa online application service is now available at Royal Thai Embassies and Consulates-General in 38 cities in 23 countries worldwide.
It is worth noting that starting from November 01, the Royal Thai Embassy has started the e-Visa facility in nine embassies/consulates Including Prague, Lisbon, Rome, Budapest, Bucharest, Athens, Madrid, Warsaw and Hong Kong.
With the launch of e-visa services in 9 new locations the Royal Thai Embassies and Consulates-General are now offering the e-Visa service in 38 cities in 23 countries worldwide;
United Kingdom:
Europe:
Athens (Greece)
Berlin
Frankfurt and Munich (Germany)
Bern (Switzerland)
Brussels (Belgium)
Bucharest (Romania)
Budapest (Hungary)
Copenhagen (Denmark)
Helsinki (Finland)
Lisbon (Portugal)
Madrid (Spain)
Oslo (Norway)
Paris (France)
Prague (Czech Republic)
Rome (Italy)
Stockholm (Sweden)
The Hague (Netherlands)
Vienna (Austria)
Warsaw (Poland)
USA:
Chicago
Los Angeles
New York
Washington, D.C.
Canada:
China:
Beijing
Chengdu
Guangzhou
Hong Kong
Kunming
Nanning
Qingdao
Xiamen
Xian
South Korea: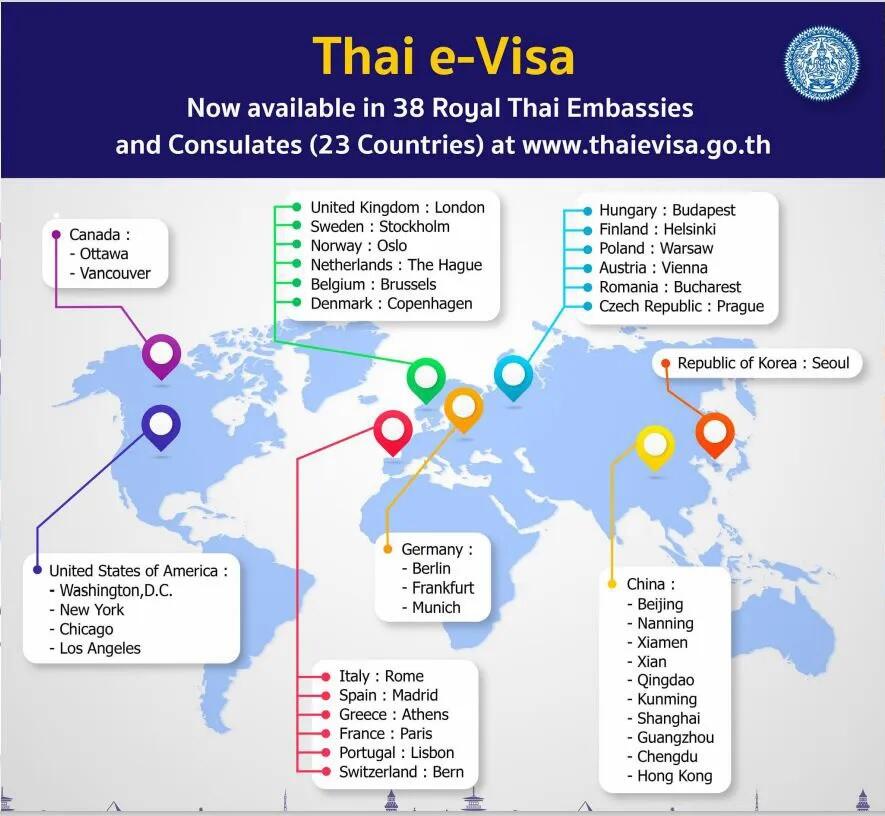 Thailand eVisa
The Thailand eVisa is issued to visitors to the country for tourism, leisure, or medical reasons. A multi-entry visa allows visitors to stay in Thailand for up to 60 days per visit. They can leave the country and return without needing another visa.
It is worth noting here that applicants are no longer required for e-Visa applicant to submit his/her passport and original supporting documents in person at the Royal Thai Embassy/Consulate.
After the e-Visa application has been approved, a confirmation e-mail will be sent to applicants. It is kindly requested to print a copy of the confirmation e-mail to present to the airline and Thai Immigration officials to carry out checks when travelling to Thailand.
The website offers search functions for the user to find out if they require a tourist visa for Thailand, whether they are eligible to apply online for a visa, and which visa type to apply for.
Other Thai Visas for Travellers
Apart from the e-Visa travellers can also be applied for a tourist visa, business and investor visa, non-immigrant ED visa (study), non-immigrant O visa (visiting friends and family), transit visa, long-stay visa, smart visa, non-immigrant F (government or diplomatic mission), diplomatic visa/official visa, and long-term resident visa.