Thailand, one of the most popular tourist destination for Indians, is now fully reopened and has removed almost every Covid-19-related travel restriction, including the requirement of a 'Thailand Pass' and 'Medical Insurance' upon international arrival.
Additionally, Thailand offers Visa On Arrival to Indian travellers, which increases demand for Thailand among Indians at a time when travellers are suffering the most from visa delays and lengthy processing times for the majority of nations.
Thailand E-Visa On Arrival
Apart from Visa On Arrival, Thailand now offers a new E-Visa On Arrival (E-VOA), which ensures a very simple and quick arrival process in Thailand – something that every traveller desires after a long flight.
Applications for the Thailand E-VOA can be submitted online, through travel agents, or at any VFS Global Visa Application Centre.
We received a lot of questions about Thailand's new E-VOA, so we decided to cover everything you need to know about Thailand's E-VOA, including eligibility, how to apply, documents needed, visa fees, and more.
What is Thailand E-Visa On Arrival?
Thailand's E-Visa on Arrival (E-VOA) is a combination of 2 types of very popular visas, namely the e-Visa and the Visa On Arrival (VOA).
An e-Visa is an electronic visa you can apply for that allows you to enter a country for tourism purposes. While the Visa On Arrival (VOA) is an entry permit granted when arriving at the port/borders of the country you plan to visit.
Who can apply for E-VOA?
Thailand currently provides the E-VOA facility to a total of 18 nations, including India. The complete list of all 18 nations whose citizens qualify for E-VOA is as follows;
Bulgaria
Bhutan
China
Cyprus
Ethiopia
Fiji
Georgia
India
Kazakhstan
Malta
Mexico
Nauru
Papua New Guinea
Romania
Saudi Arabia
Taiwan
Uzbekistan
Vanuatu
Documents Needed For Thailand E-VOA
To apply for E-VOA for Thailand you must upload the following documents during the online application process.
A passport that is valid for at least 30 days.
Passport Cover Page
Passport Bio Page
Recent Photograph size 4×6 cm and not older than 6 months
Departure and Return Airline tickets (not exceeding 15 days since the entry).
Proof of accommodation (Hotel Reservation or Airbnb Booking)
Tip: Please keep in mind a dummy ticket cannot be submitted, you must have a valid and paid return ticket to apply for Thailand E-VOA.
You can also be asked to submit extra paperwork while applying for E-VOA, such as a birth certificate for minors. You should upload these documents online.
If you need to submit additional paperwork, you need to do it at least 3 days prior to arrival for a regular visa and at least within 24 hours of arrival for an express visa.
Document Validity
The pre-approved E-VOA is valid only on the arrival date as stated in the application form.
The purpose of your visit must be a short stay/travel in Thailand for no longer than 15 days.
Your passport must be valid for at least 30 days from the date of arrival and have at least 1 page available for Visa Stamp.
You must be a citizen of one of the 18 nationalities deemed eligible for the E-VOA facility as per the Immigration Bureau of Thailand's requirement
Your confirmed air ticket must show a round trip for no longer than 15 days
Your full trip accommodation address in Thailand should be verifiable
You should have sufficient means of living to support your stay in Thailand (minimum 10,000 THB/person, 20,000 Baht/family).
How to apply for Thailand E-VOA?
You must submit an application through VFS Global to start your Thailand E-VOA. After clicking the link, you must create an account and fill out the following information on your Thailand visa on arrival form:
In 3 simple steps, your Thailand E-VOA application is ready!
Step 1: Provide the Application details and upload the necessary Documents
Step 2: Pay the fee online
Step 3: Download the pre-approved E-VOA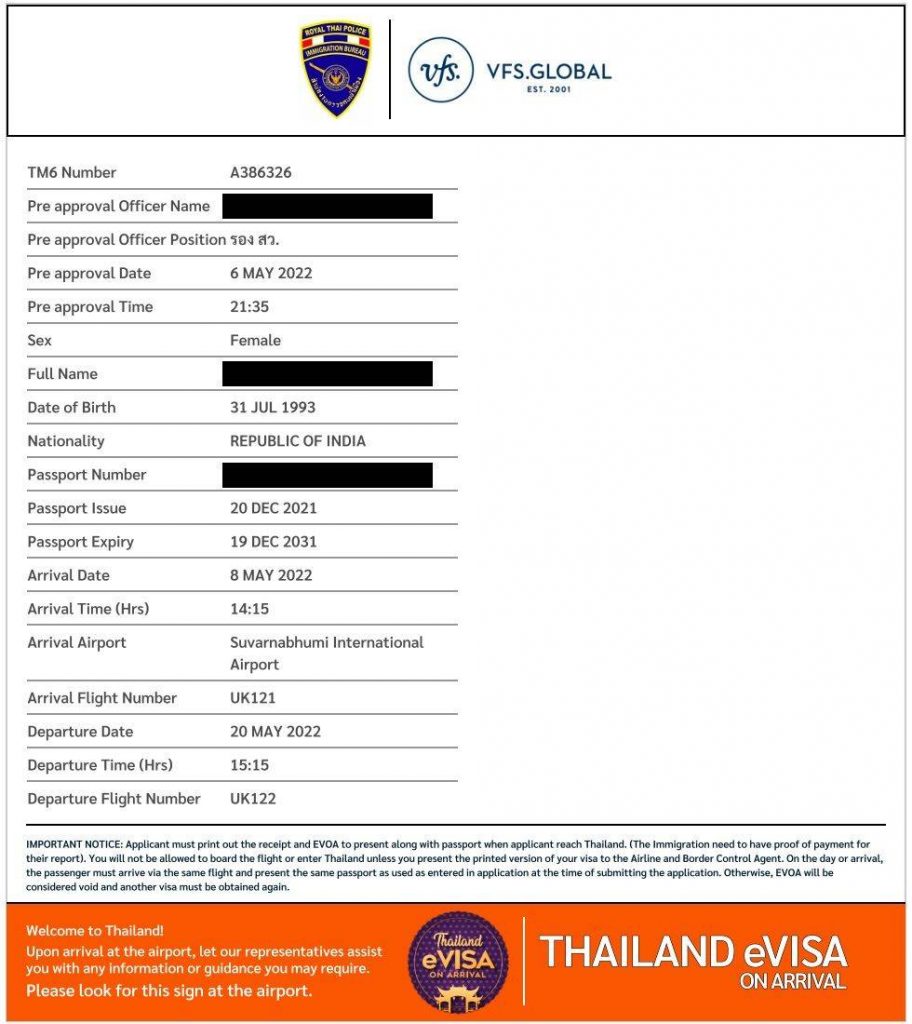 You must print out a copy of your completed online application for a Thailand visa on arrival and hand it in in Thai at the immigration area (along with your other supporting documents).
Your passport will be stamped once officials have approved your E-VOA, and you can then enter Thailand.
Thailand E-VOA Fees
After submitting your information and the other required documents, you must pay the application fee. The E-VOA fees for a Visitor Visa are as follows (non-refundable online processing fee inclusive of all charges):
Regular Visa fee: 2000 THB (₹4475 Approx.)
Regular Service fee: 500 THB (₹1118 Approx.)
Express-Visa Service: You can also apply for an express service, to get your E-VOA decision within 24 hours.
Express Visa fee: 2000 THB
Express Service fee: 2500 THB
After you pay the E-VOA fee, you will receive an email confirming your payment.
Fees can only be paid with a MasterCard, Visa, or Union Pay credit/debit card, as well as WeChat or Alipay.
It is not required that the card is in your name. Check to see if your card is a "3D Secure Card" and capable of international transactions.
The E-VOA fee will only be paid in Thai currency (THB). If you do not have a THB account, an equivalent amount in your home currency will be deducted from your account.
Upon Arrival At Thailand Airport
You must go to Visa on Arrival in the immigration zone and wait in the dedicated E-VOA lane upon arrival. Then, you must show immigration officials your valid passport and pre-approved E-VOA. You will be allowed to enter Thailand once the authorities have reviewed your required documents.
Go to the Visa on Arrival area in the immigration area and enter the dedicated E-VOA lane
Present your passport to the officer
Get the final immigration approval and enter Thailand
Documents to Carry
At the airport, the airport authorities will check if you are eligible to enter the country. Be aware of the documents that you must carry and avoid any hassle:
Your valid passport (Must be the same that you use for apply E-VOA)
Your pre-approved E-VOA
Immigration's receipt
Tip: When you arrive, you will need to clear both – Thailand Immigration and Customs processes. Your airline should distribute Immigration and Customs forms for you to fill out before your arrival.
Thailand E-VOA Processing Time
Thailand's E-VOA typically takes between 24 and 72 hours to process. If your application has been delayed for more than five business days you can contact VFS Global. If you chose to express visa service, your Thailand E-VOA will be processed within 24 hours.
Track Thailand Visa Status
If you have not received your Thailand Visa on time and facing delays, you can always track the status of your Thailand Visa Application from this link.
All you need to do is enter your;
Passport Number
Date of Birth
Order Reference No
And click on the submit button; Once you submit the above-mentioned details the VFS Global will show the current status of your Thailand Visa application.