Swiss International Airlines, the flag carrier of Switzerland has commenced its direct flight operation between India and Switzerland after almost two years under the Air Bubble Arrangements.
The first flight after the Covid-19 pandemic has arrived in Mumbai on 11th January and the airline today operates the return flights from Mumbai to Zurich, Switzerland.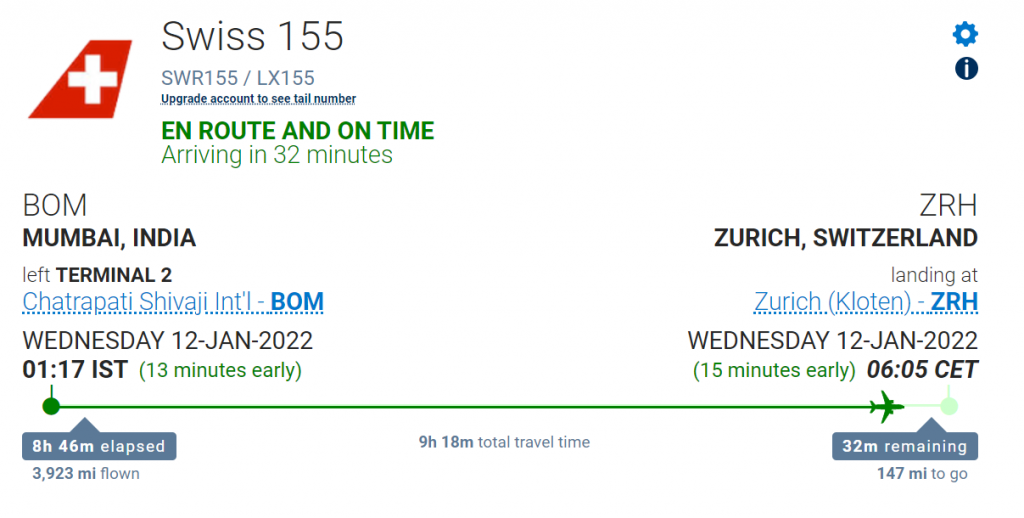 Notably, Swiss has scheduled two weekly direct flights between Zurich in Switzerland and Mumbai; LX154, from Zurich, Switzerland to Mumbai, India every Monday and Wednesday starting 10th Jan 22;
And the return flight LX155 from Mumbai to Zurich will be operated on every Wednesday and Friday effective from today, 12th Jan 22.
Swiss Mumbai-Zurich Flight Schedule
| | | | | | | |
| --- | --- | --- | --- | --- | --- | --- |
| Flight No | Departure | Dep. Time | Arrival | Arr. Time | Freq. | Start Date |
| LX154 | Zurich | 20:20 | Mumbai | 09:05 +1 | Mon, Wed | 10th Jan 22 |
| LX155 | Mumbai | 01:30 | Zurich | 06:20 | Wed, Fri | 12th Jan 22 |
If you are planning to travel to Switzerland from India you can take the above-mentioned flight; Also you need to follow the below guidelines for travel to Switzerland.
Switzerland Travel Guidelines
For entering Switzerland with children or adolescents, travelers need to note the following:
Children and adolescents need to fill in the entry form, which can be included in the entry form of the adult travelling with them.
Children under the age of 16 are not required to provide proof of a negative coronavirus test on entering Switzerland. They are exempted from the test requirement on entry and the test requirement within 4-7 days of arrival.
The above regulations are only applicable in Switzerland. Transit through other countries to Switzerland and visiting other Schengen countries internally from Switzerland might be restricted, depending on the travel regulations outlined by the respective country.
Travelers are advised to check with the authorities of concerned countries while planning their travel.
Switzerland Visa Update
The Embassy of Switzerland Visa Section in Delhi and VFS Global have started accepting applications for all types of Schengen Swiss visas, including Type C (entry and a stay of up to 90 days within a period of 180 days).
VFS is operational and accepting visa applications at the centers in New Delhi, Mumbai, Kolkata, Bengaluru, Chennai, Kochi, and Hyderabad. The travelers no longer have to be quarantined after arriving in Switzerland.
Applicants have to check with the airlines if a PCR test report is required for boarding the airplane. For further information, do contact our respective offices in Delhi and Mumbai.