Indian budget carrier SpiceJet on Monday announced the launch of its Wow Winter Sale, under this sale the airline is offering domestic flight tickets at unbelievable fares starting at just ₹1122 (all-inclusive).
Moreover, customers who will book their tickets under the sale fare will get a one-time waiver on the change fee and a Free flight Voucher worth ₹500 ( base fare voucher) that they can use for their next travel.
The sale fare under this offer is available on the 15 days out booking only, at any given point of time. The details of the Winter Sale offer are as below.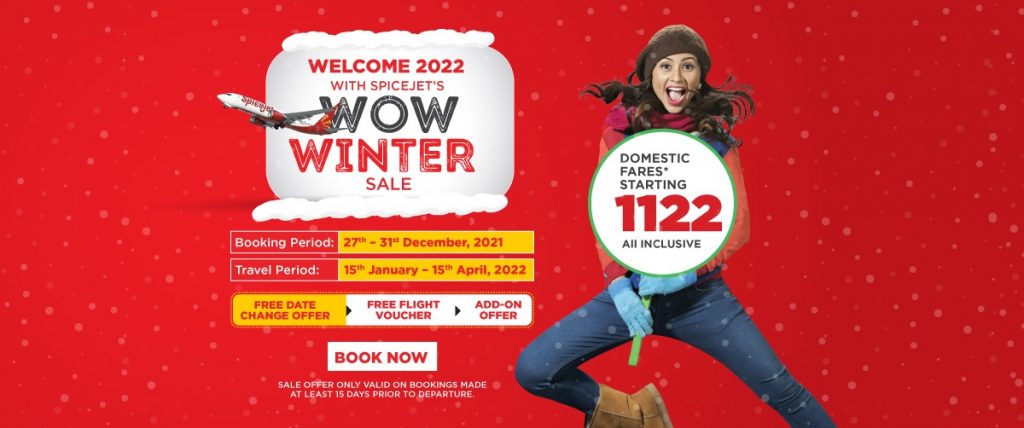 SpiceJet Wow Winter Sale Offer
Domestic One way Fares Starting 1122 (All inclusive)
Booking period: 27th December'2021 to 31st December'2021
Travel Period: 15th January'2022 to 15th April'2022.
Free Date Change Offer
The free date change offer is only applicable for the tickets purchased under the Wow Winter Sale:
To avail the waiver of change fee, booking must be modified at least 2 days prior to the flight departure date.
Fare difference wherever applicable shall be paid by the customer
Free Flight e-Voucher
Voucher Amount – INR 500 (Base Fare Voucher)
Voucher Redemption period: 15th January 2022 – 31st Jan 2022.
Voucher Travel period ; 1st February 2022 to 30th September 2022.
Customers who will book the sale fare tickets during this offer period will receive a free flight e-voucher per booking that they can use for their next travel.
The e-voucher will be sent to the email id shared by the customer at the time of booking.
Customers must ensure to mention their correct email id at the time of booking the sale fare tickets. They will receive the free Flight Voucher (one voucher per booking) on or before 15th January 2022.
This offer is applicable on limited seats only and is available on a first-come, first-served basis. So hurry up and start booking!