The demand for travel has rapidly increased as the festive season has arrived. In response, SpiceJet, an Indian low-cost airline, recently announced that it would start operating new non-stop domestic flights connecting Goa with Ahmedabad, and Chennai.
In a social media post, SpiceJet said that the non-stop service between Goa and Ahmedabad will begin on October 18. While the airline will begin operating flights between Chennai and Goa starting on October 30.
Not only that, but with these flights, travellers can also connect to other domestic cities like Tirupati and Kolkata as well as international destinations including Dubai and Bangkok.
"Flyers, we have the right amount of 'sweet' news for you. Now connecting Goa to Ahmedabad and Chennai. Enjoy one-stop flights to Dubai, Bangkok, Tirupati, Kolkata and many more cities," said SpiceJet in a Tweet.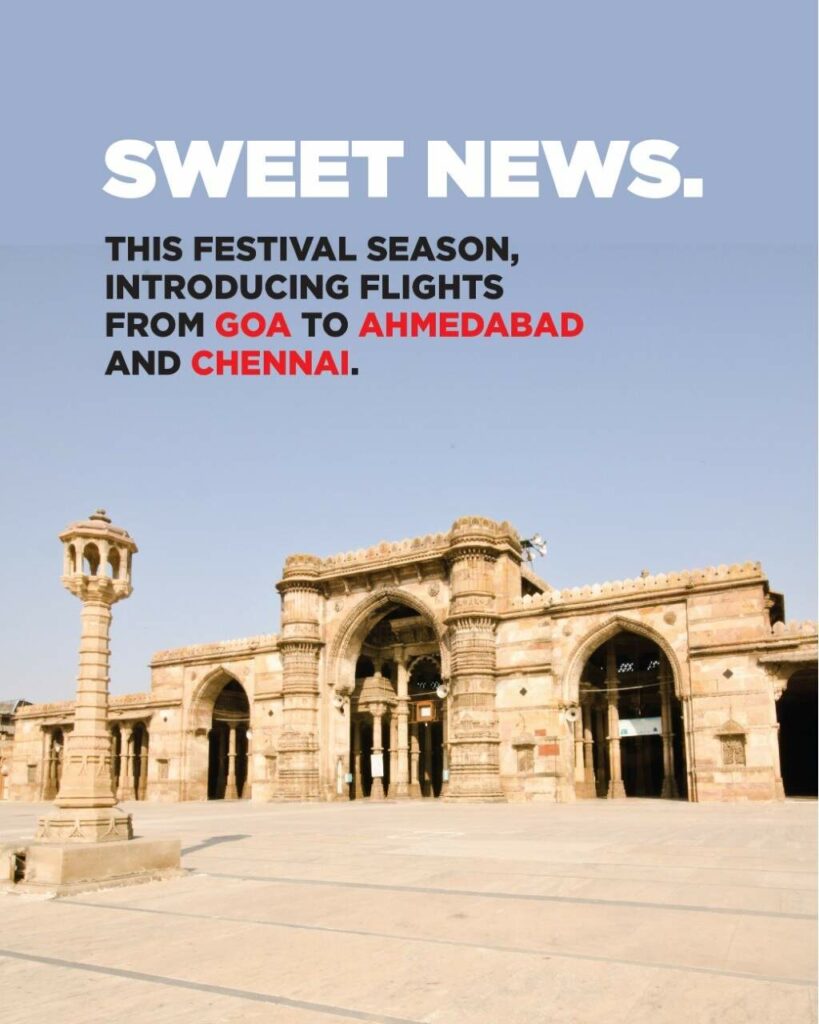 SpiceJet New Domestic Flights From Goa
According to information provided by the airline, the flight from Ahmedabad to Goa departs at 18:45, and the arrival time in Goa is 20.35. The Goa-Ahmedabad flight departs from Goa at 21:05 and reaches 22:55.
Another flight will also operate between these two cities and will depart Goa at 7:50 am and arrive in Ahmedabad at 9:30 am. It departed from Ahmedabad at 5:40 p.m. and arrived in Goa at 7:20 p.m.
At the same time, beginning on October 30, 2022, a flight will operate between Goa and Chennai. The SpiceJet flight from Goa to Chennai will depart at 21:05. At the same time, this flight from Chennai took off at 19:55 and arrived in Goa at 20:35. This flight will be available every day except Wednesday.
| | | | | |
| --- | --- | --- | --- | --- |
| Route | Dep. Time | Arr. Time | Frequency | Start Date |
| Goa-Ahmedabad | 21:05 | 22:55 | Daily | Oct 18 |
| Ahmedabad-Goa | 18:45 | 20:35 | Daily | Oct 18 |
| Goa-Ahmedabad | 07:50 | 09:30 | Daily (Except Sat) | – |
| Ahmedabad-Goa | 05:40 | 07:20 | Daily (Except Sat) | – |
| Goa-Chennai | 21:05 | 22:35 | Daily (Except Wed) | Oct 30 |
| Chennai-Goa | 19:05 | 20:35 | Daily (Except Wed) | Oct 30 |
SpiceJet also offers convenient one-stop flights to Dubai, Bangkok, Tirupati, Kolkata and many more cities, the schedule of these flights will be as follow;
| | | | |
| --- | --- | --- | --- |
| Route | Dep. Time | Arr. Time | Frequency |
| Goa-Dubai | 13:40 | 22:35 | Daily |
| Goa-Bangkok | 15:05 | 03:15 | Daily |
| Goa-Tirupati | 21:55 | 07:30 | Daily |
| Goa-Kolkata | 13:30 | 21:30 | Daily |
| Goa-Durgapur | 13:30 | 19:45 | Daily |
| Goa-Jabalpur | 13:30 | 20:10 | Daily |