Low-cost carrier SpiceJet on Wednesday announced that it has added Kushinagar in Uttar Pradesh to its domestic network and will start operating flights between Delhi and Kushinagar from 26th Nov 2021 with a starting fare of ₹3,662.
Moreover, by the mid of December, SpiceJet will also connect Kushinagar International Airport with two major metro cities namely – Mumbai and Kolkata.
It must be noted that these flights will be operating under the UDAN Scheme and the airline will deploy its Boeing 737 and Q400 aircraft on these routes.
"SpiceJet is proud to be a part of the dream to connect the remotest corners of India Kushinagar International Airport is yet another leap towards connecting the unconnected. SpiceJet to operate Delhi-Kushinagar from 26Nov & thereafter connect Mumbai & Kolkata."

Said SpiceJet In A Tweet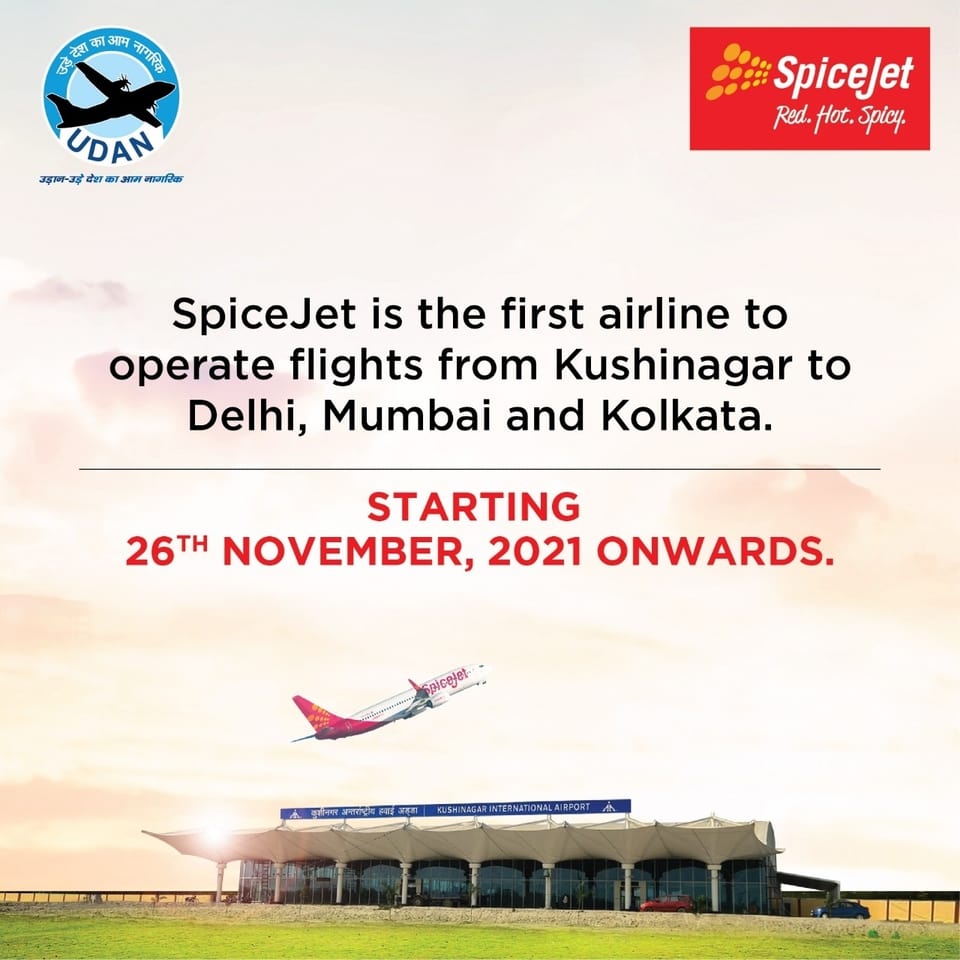 "I extend my heartiest congratulations to the historic city of Kushinagar and its residents for having their own international airport for seamless domestic and international connectivity," Ajay Singh, Chairman and Managing Director, SpiceJet, said.
Inauguration of Kushinagar International Airport
PM Narendra Modi on Wednesday inaugurated the Kushinagar International Airport in Uttar Pradesh. The Kushinagar airport will serve nearby districts of UP and Bihar and is an important step in boosting investment and employment opportunities in the region.
"More than 50 new airports, or those which were not in service earlier, have been made operational," says PM Narendra Modi in Uttar Pradesh
About Kushinagar International Airport
The Kushinagar International Airport has been built at an estimated cost of ₹260 crores. It will facilitate domestic & international pilgrims to visit the Mahaparinirvana sthal of Lord Buddha and is an endeavor in connecting the Buddhist pilgrimage holy sites around the world.
The airport will serve nearby districts of Uttar Pradesh and Bihar and is an important step in boosting the investment & employment opportunities in the region.
Also Read: Govt May End Airfare Caps On Domestic Flights By End of October