India is gearing up to celebrate its 74th Republic Day on January 26th, 2023, and many of the country's low-cost airlines have announced special sales and deals in honour of the occasion.
SpiceJet, Go First, and AIX Connect (operating as AirAsia India) have all announced their Republic Day sales, with domestic flight tickets starting at ₹1126. To commemorate the occasion, these airlines are also offering a variety of other travel deals and discounts.
Republic Day Sale & Travel Offers
1. SpiceJet – 26 January Sale
In celebration of India's 74th Republic Day, SpiceJet has announced its special "26 January Sale." This sale offers a substantial discount of up to 26% on all domestic flights, with starting fares as low as Rs.1126 (all-inclusive).
But the savings don't stop there. In addition to discounted airfare, the sale also includes a 26% reduction on the convenience fee, as well as a flat 26% off on select add-ons such as SpiceMax, Preferred Seats, Meals, and Priority Services.
According to SpiceJet, the sale period begins on January 24th and ends on January 29th, 2023, and is valid for travel until September 30th, 2023.
Enjoy exclusive additional offers only on www.spicejet.com
Spin the wheel and win assured discount vouchers
Book flight tickets and enjoy great discounts and offers on preferred brands, across categories.
Win a free flight voucher worth INR 1000 if your birthday or anniversary is on 26th January.
2. Go First – Republic Day Offer
Just like SpiceJet, Go First, India's ultra-low-cost airline has also announced its Republic Day Offers and offering
The sale is valid from January 23rd to January 26th, 2023 and is valid for travel between February 12th and September 30th, 2023.
But that's not all! When you book your flights during the offer period, you'll also receive free cancellation and free rescheduling as an added bonus. However, there are some terms and conditions apply to this offer and the same can be found here.
3. AirAsia India – Republic of Travellers sale
AIX Connect, operating as AirAsia India has also launched its Republic of Travellers sale with fares starting from ₹1,126 for routes such as Delhi-Jaipur, along with similar special sales fares across its network.
Bookings are open till 26th January 2023, for travel between 1st February and 30th September 2023.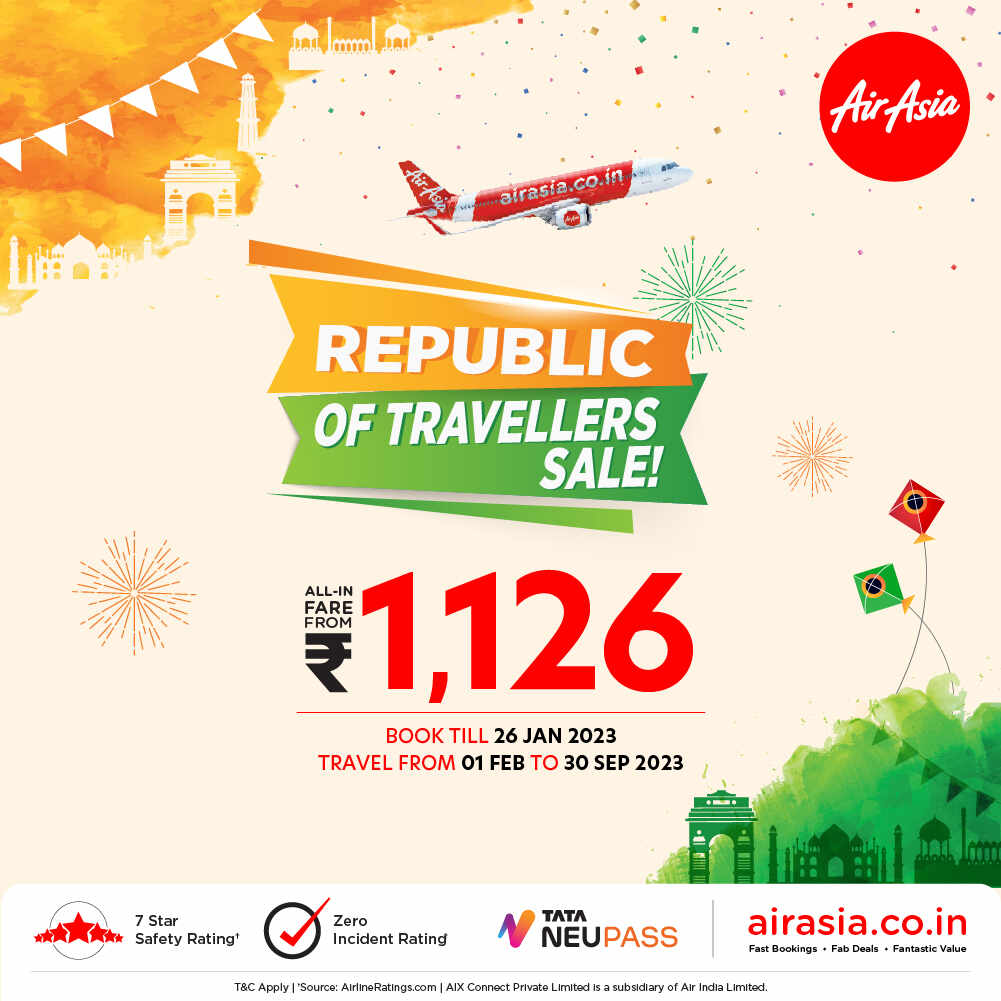 The Republic of Travellers Sale gives an opportunity to explore the beauty and diversity of India at an unbeatable economical price. This would enable travellers to plan their spring and summer getaways to a wide range of popular and off-beat destinations on the AirAsia India network, including Goa's stunning beaches and vibrant nightlife, where AirAsia offers the second-highest number of flights from metros.