The Govt. of Sikkim on Sunday in a notification said that all tourists who are fully vaccinated against the Covid-19 can now travel to Sikkim, starting from today (05th July 2021).
Sikkim government had suspended the entry of tourists since March this year after a surge in Covid-19 cases in the country.
A notification issued by the Home Department, Government of Sikkim stated that "Entry of all persons, including tourists, who have been fully vaccinated against Covid-19, shall be allowed entry from Melli and Rangpo check post, without RT-PCR negative report on the production of valid vaccination documents. For all others, existing restrictions will continue to apply."
The notification further added that all Hotels, Guest Houses, Home Stays, etc. shall be allowed to operate with 50% capacity. The management shall ensure strict adherence to Covid-19 protocol.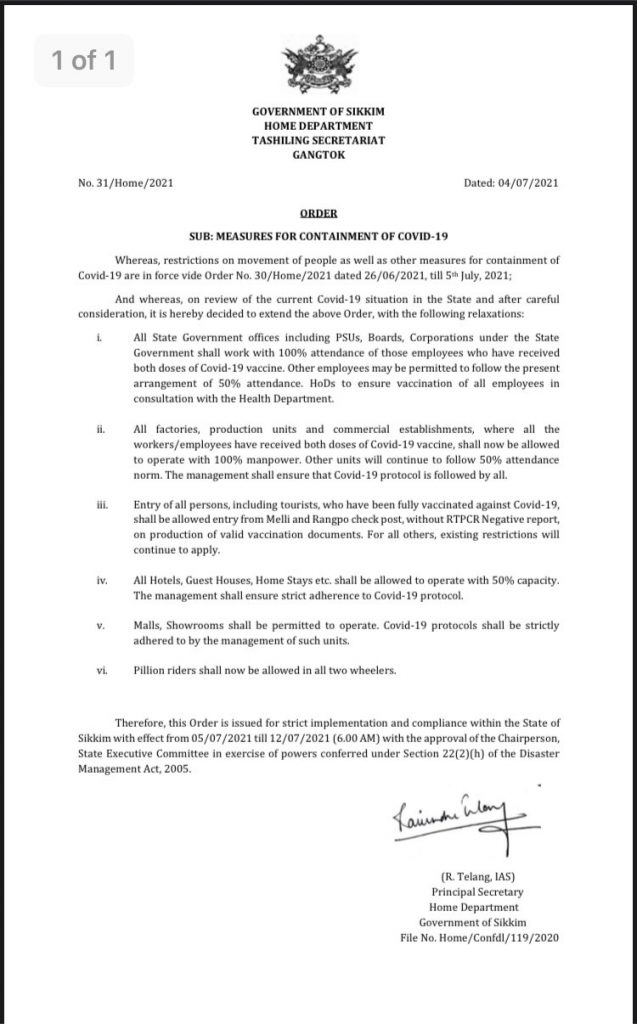 Moreover, Malls, Showrooms shall be permitted to operate. Covid-19 protocols shall be strictly adhered to by the management of such units.
Similarly, all factories, production units, and commercial establishments can also operate at 100 percent capacity provided the workers/employees are fully vaccinated.
Also Read: No Requirement of Negative RT-PCR Test To Enter Himachal Pradesh