As you may know that with Covid-19 cases on the rise worldwide starting December 24, the Govt of India has started random testing of international travellers on arrival in India.
Now according to a report by ANI, out of 1,780 samples taken at Indian airports over the past three days, 39 international travellers have tested positive for COVID-19.
39 International Travellers Test Positive for COVID-19
"The total number of international flights screened in the last three days ie Dec 24, Dec 25 and Dec 26 is 498. The no of samples collected for Covid19 testing is 1,780. The cumulative number of samples collected is 3,994. The cumulative number of samples testing positive is 39 and the cumulative number of samples sent for whole genome sequencing is 39," ANI quoted a source.
In response to an increase in cases in countries like Japan, the United States, China, Brazil, and South Korea hospitals across India held a mock drill to assess their readiness for COVID-19 in terms of resources, protocol, and personnel.
Random Testing of 2% International Arrivals
The Indian government has resumed the practice of randomly testing international passengers for COVID-19 at airports across the country. The rules for these random tests will be as follows:
A sub-section (2% of the total passengers* in the flight) shall undergo random post-arrival testing at the airport on arrival.
Such travellers on each flight shall be identified by the concerned airlines (preferably from different countries). They will submit the samples and shall be allowed to leave the airport thereafter.
If such travellers' samples are tested positive, their samples should be further sent for genomic testing at the INSACOG laboratory network.
They shall be treated/isolated as per the laid down standard protocol.
Along with the random testing of 2% international arrivals, India has also updated Covid-19 travel guidelines including protocols that must be followed by international travellers as well as points of entry (airports, seaports, and land borders) and will be in effect from December 24, 2022, until further orders are issued.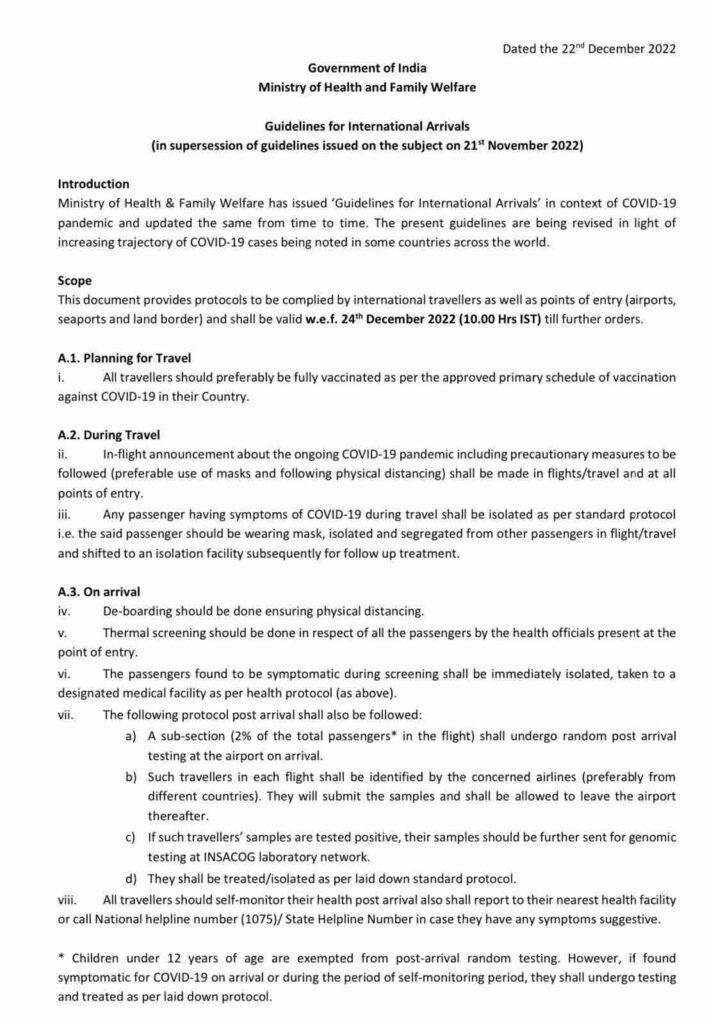 RT-PCR Test, Air Suvidha Mandatory For Travellers From 5 Countries
Recently, India mandated the RT-PCR test for all international passengers arriving from five Asian countries: China, Japan, South Korea, Hong Kong, and Thailand. Passengers from these countries will also be quarantined if they exhibit symptoms or test positive for Covid-19.
Not only that, but passengers from such countries must also fill out an Air Suvidha form to declare their current health status.