As you may be aware, Malaysia reopened its international borders on April 1st, allowing for the first time in two years quarantine-free travel and tourism as the country transitions to treating COVID-19 as an endemic disease.
However, there is a set of rules in place for visitors who want to visit the Southeast Asian country.
So here we have collected all the information you need to know regarding travel rules including RT-PCRs, vaccinations, flights and visas options available for travellers.
Guidelines For Travel To Malaysia
Malaysia is now a destination that is open to all and may be visited by anybody, however, travellers who desire to visit Malaysia after April 1 should bear the following points in mind;
All travellers must produce proof of complete vaccination and a negative RT-PCR test performed not more than two days before travel.
Within 24 hours of arriving in Malaysia, all travellers will be required to take a professionally performed RTK-Ag test.
Fully vaccinated travellers who have been infected with COVID-19 within the last 60 days must have a professional administered RTK-Ag no more than 2 days prior to travel to Malaysia.
All passengers flying to Malaysia must download and activate the MySejahtera contact tracking app, as well as fill out the pre-departure form found under the traveller icon.
Passengers over the age of 18 who have not been properly vaccinated will be subjected to a five-day quarantine when they arrive in Malaysia.
Face masks will continue to be usual practice in public areas, especially in confined places.
COVID-19 travel insurance is required for all passengers.
Flights To Malaysia
Starting April 01, many airlines across the world including Thai Smile, SriLankan, Air India, and Singapore Airlines have started their scheduled operation to/from Malaysia. Also, Malaysia Airlines, the flag carrier airline of Malaysia and a member of the Oneworld airline alliance has also resumed its operation to/from many countries.
With effect from March 27, 2022, the airline has started scheduled flights to and from India. It has begun flying to Malaysia's Kuala Lumpur from major Indian cities like Delhi, Mumbai, Chennai, Bengaluru, and Hyderabad.
Flights between the two countries are currently operated under the Vande Bharat Mission, and only a limited number of people are permitted to embark on these flights.
Malaysia Visa Options
1. Malaysia eNTRI Visa
Malaysian eNTRI visas are one of the different visa types available in the country. While many international visitors are allowed to enter the country without a visa for short visits, some nationalities must first get a travel document.
The Malaysia eNTRI can be applied entirely online, removing the requirement to visit a Malaysian embassy to obtain a travel authorization.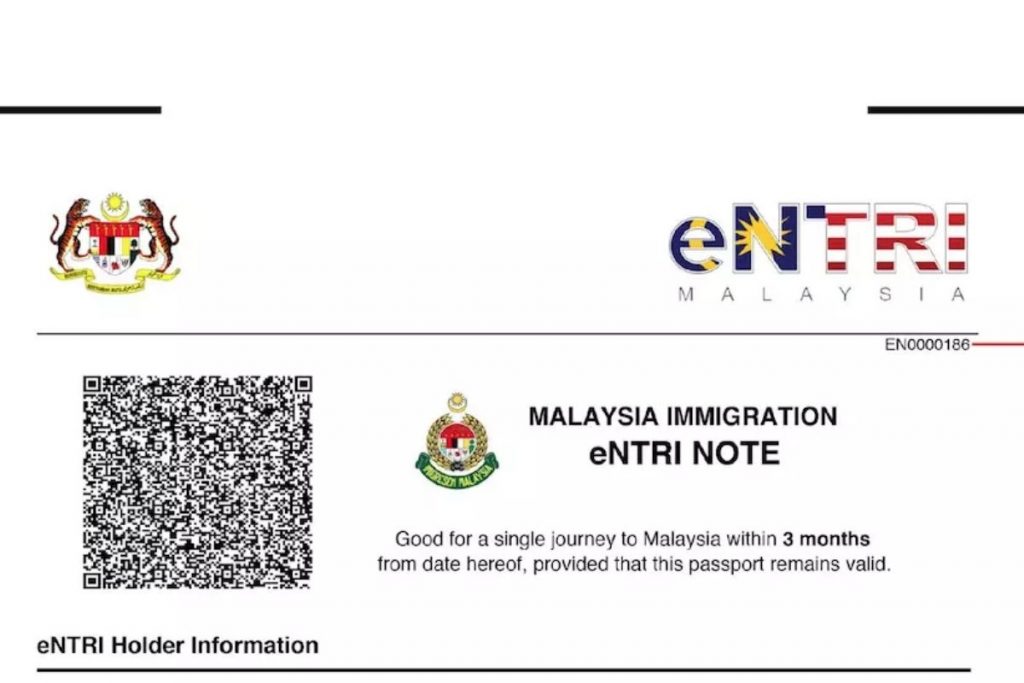 What Is an eNTRI Visa for Malaysia?
The Electronic Travel Registration & Information (eNTRI) is an online form that allows eligible citizens to enter Malaysia under the country's visa waiver programme.
Applicants are provided with an eNTRI Note after completing the online registration process, which must be printed and presented upon arrival in Myanmar to gain entry.
The printed note can be used to enter Malaysia at only Kuala Lumpur International Airport for holders of an approved eNTRI.
Who can apply for Malaysia eNTRI Visa?
The Malaysia eNTRI visa is only available for Indian passport holders or holders of a passport of the People's Republic of China.
2. Malaysia eVisa (Online Visa)
The Malaysia eVisa is quick and easy to obtain. Travellers from the ten qualifying countries can obtain a multiple entry visa in a few simple steps.
Applicants must fill out the Malaysia online application form, which includes answering a few simple questions and paying a fee with a credit or debit card.
The Malaysia eVisa is now available to ten nationalities. The eVisa is available to travellers with passports from the following countries:
3. Travellers from the rest of the world can apply for other types of visas for Malaysia at any Malaysian embassy or consulate.