As you may know that starting, 11th October the United Kingdom has started easing its travel restrictions and allowing travelers from more countries to enter the UK.
The United Kingdom has also ended the mandatory 10 days quarantine for Indian travelers and recognizes India as an approved country of vaccination.
In view of the above-mentioned changes Vistara, the Indian full-service airline has issued revised guidelines for its passengers traveling to the United Kingdom from India.
United Kingdom Travel Guidelines
Vaccinated passengers have to fill Passenger Locator Form (PLF) and must undergo PCR test on Day 2 of arrival.
Approved Country refers to 'Country of Vaccination' and not 'Country of Flight Origin'.
Approved vaccine is Covishield.
It is OK if Children don't have their own PLF as long as they are included in the Accompanying Adult's PLF, provided they stay at same address.
Vaccination status to be considered Fully Vaccinated if 14 days have passed after final dose (day of final dose is Day 0).
Vaccine certificate should include forename, surname, DOB, vaccine dates, vaccine brand and manufacturer, country/territory of vaccination and/or certificate issuer (issued in English, French or Spanish).
Non-vaccinated passengers have to follow the standard defined protocols.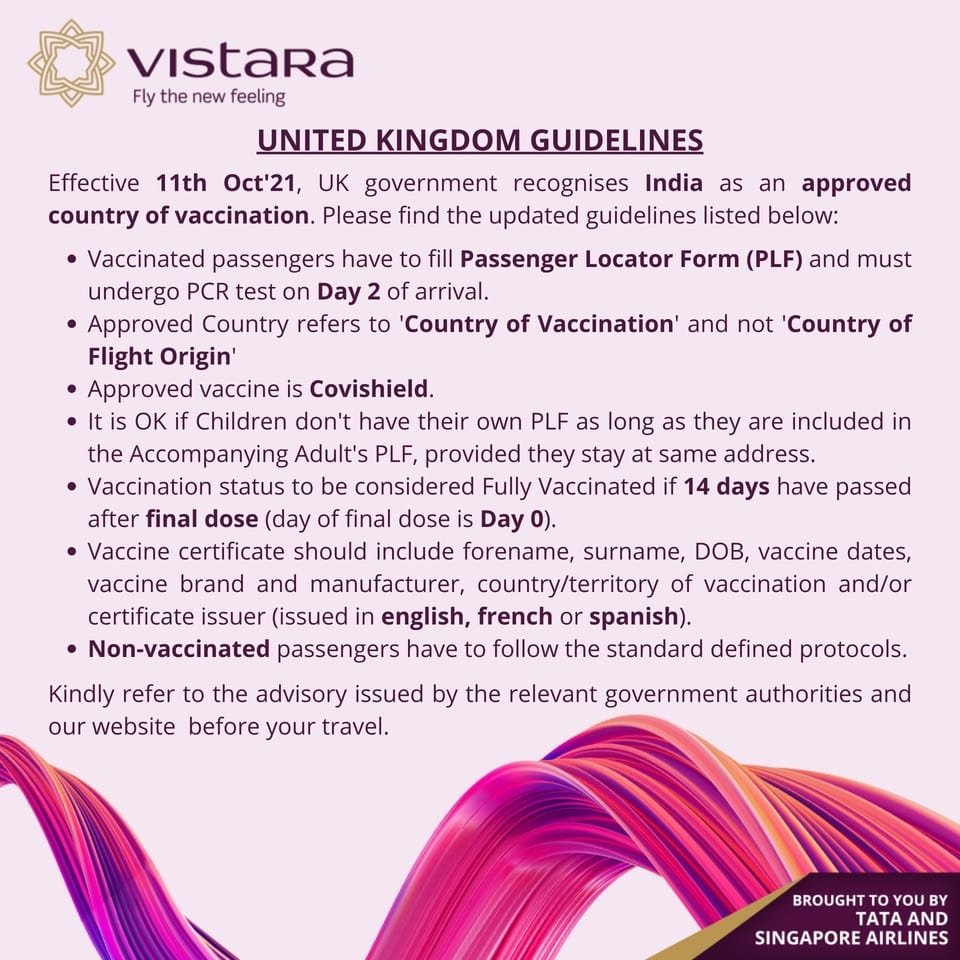 Vistara also advised its passengers to refer to the advisory issued by the relevant government authorities and our website before your travel.
It may be noted that apart from India, fully vaccinated travelers from Brazil, Hong Kong, Pakistan, South Africa, and Turkey are now also exempt from the mandatory quarantine and testing requirements.
Also Read: Quarantine Free Travel: Singapore To Reopen For Vaccinated Visitors From 11 Countries Starting Oct 19