Indian low-cost airlines like IndiGo, Go First and AirAsia India has announced free rescheduling for all new bookings made during this festive season.
As per the details shared by the airlines, the free rescheduling offers will be applicable on all domestic bookings made till 31st Dec 2021. However, passengers will have to pay the difference of fare between the old and new booking.
IndiGo Zero Change Fee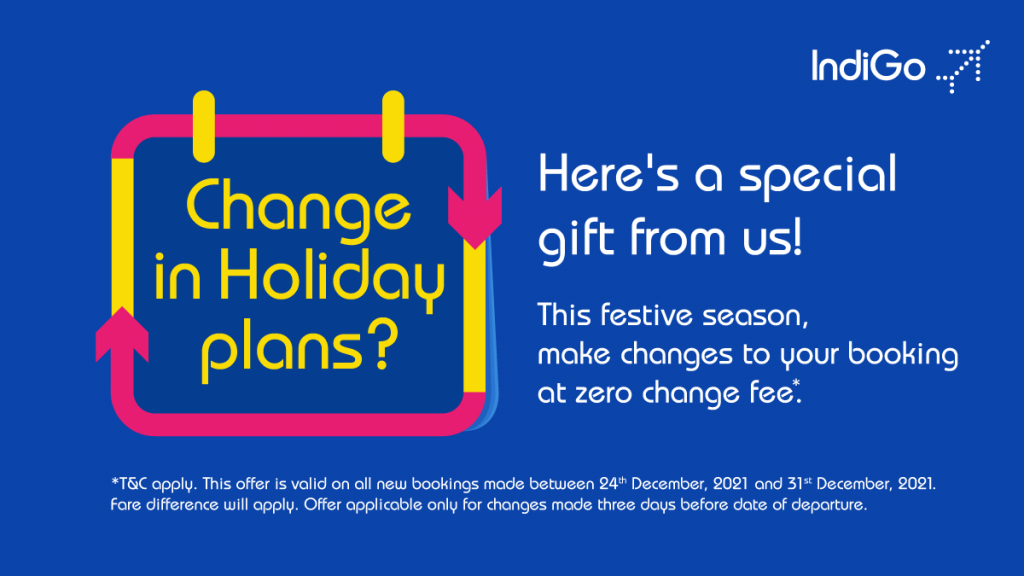 Leading low-cost Airline IndiGo has announced that it is offering zero change fees on all bookings made between 24th Dec 2021 and 31st Dec 2021.
However, the offer is applicable only for changes made three days before the date of departure and passengers will have to pay the deference of fare only.
AirAsia India Free Rescheduling
AirAsia India has also announced free rescheduling for all new bookings made till 31st December 2021 and is applicable for a travel period till 31st March 2022.
The offer will be applicable for changes made 72 hours before the scheduled flight departure. Fare differences, if any, will apply.
The airline extended this offer for bookings made on its website www.AirAsia.co.in, mobile app, and other major booking channels. This offer gives guests a taste of the airline's 'Premium Flex' proposition which it has been actively promoting.
Guests booking 'Premium Flex' fares at a marginal supplement continue to enjoy a host of complimentary services including unlimited rescheduling of flight bookings, discounted cancellation fees of only Rs. 500 for cancellations beyond 72 hours, against the standard cancellation fees of Rs. 3000, free standard seats from Row 6-11 and 15-32, 50% off premium hot seats in Rows 1-5, 12, and 14.
Go First Zero Rescheduling Fee
Just like IndiGo and AirAsia India Go First has also offered zero rescheduling fees and allows passengers to change their flight at no extra cost.
This offer is valid on all new bookings made between Dec 24th & 31st, 2021.
Fare difference will apply.
Offer applicable only for changes made 3 days before date of departure.
Valid on domestic flights only.