Indian airlines have lost over Rs 550 crore because of airspace closure by Pakistan, Minister of State for Civil Aviation (Independent Charge) Hardeep Singh Puri told Rajya Sabha Wednesday, adding the move was a unilateral measure by Pakistan "that followed the non-military counter terrorism air strike by Indian Air Force against terror camp in Balakot, Pakistan in February 2019".
In a written response to a matter in the upper House, Puri noted that flag-carrier Air India lost Rs 491 crore until July 2, whereas India's largest domestic airline IndiGo incurred a loss of Rs 25.1 crore till May 31. Budget carriers SpiceJet and GoAir lost Rs 30.73 crore and Rs 2.1 crore, respectively till June 20. On Friday, Pakistan extended the closure of its airspace for the fourth time till July 12.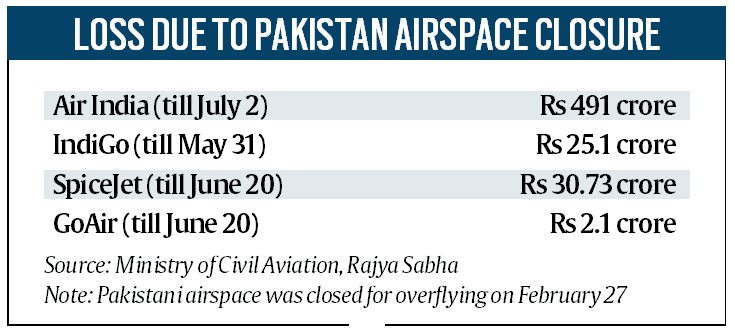 Following airstrikes by Indian Air Force in Balakot, Pakistan had totally closed its airspace on February twenty-six. whereas it later spread out the airspace, restrictions on overflying the country still continue — and out of the whole 11 air routes in Pakistan's territory, it has opened up two since March. One of these is west waypoint over the Arabian Sea towards Karachi, Hingol, Gwadar, and the alternative one is eastbound over Karachi, Badin into Gujarat, India towards Ahmedabad. The closure of routes affected many east-west flights flying over the subcontinent however westbound flights from airports in northern India such as Delhi, Lucknow, Amritsar, etc are worst affected.
Click here for more updates.