To ease the VISA process, the Govt of India has developed a user-friendly mobile app namely SU-SWAGATAM (Visit India).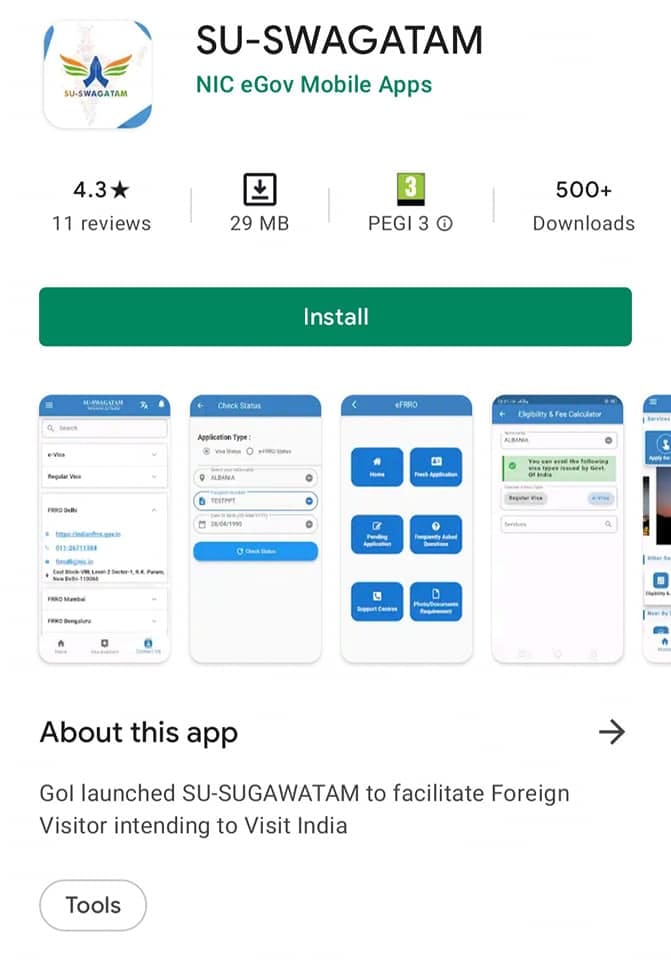 Salient features of the newly developed app are given below:
The App can be downloaded from Google Play Store for Android users and on App Store for IOS users.
The Mobile App SU-SWAGATAM has integrated requisite services enabling foreigners with facilities right from the visa application stage till their exit from the country.
Foreign nationals intending to visit India can use the app to fill visa forms (e-Visa & Regular/Paper Visa) and subsequently deposit, along with supporting documents for Regular / Paper visa as per existing practice.
The app is also integrated with the e-FRRO portal. thereby, facilitating foreign nationals to apply .r extension of visa, residential permit, exit permit from concerned FRRO/FRO.
Special services one can avail from the newly developed App:
Some additional features have been introduced in the App. By using the App one can avail of these features including useful information on utility services like details of;
Touristic Places
Government Agencies
Transport Agencies
Places of Entertainment
Health Service
Religious Places
lodging
Food, and shopping, etc.
Primarily aimed to make foreigners stay in India smooth and easy.
In addition, currently, the App can be used for Business. Medical and Medical attendant visas. Users are free to use either of the options i.e. the online portal India Visa Online (indianvisaonline.gov.in) for Regular/Paper visa and e-Visa (indianvisaonline.gov.in) for e-visa purposes or the Mobile App SU-SWAGATAM for submission of visa applications and seeking e-FRRO services.
---
Follow and connect with us on Facebook, Twitter, Linkedin, Instagram and Google News for the latest travel news and updates!
---
Also Read: Saudi Arabia Announced Free Extension of Iqamas, Visas of Expats Till Nov 30