The International Airline Transportation Association (IATA) has designed an Interactive (COVID-19) Travel Regulations Map, maintaining an up-to-date, solid resource that travelers can reference to know which worldwide destinations are opening up to receive visitors again, and to what degree.
This tool will surely prove itself very useful to anyone hoping to travel internationally in the near future, as COVID-19-related developments continue to alter the global travel landscape on a near-daily basis.
Understanding The Tool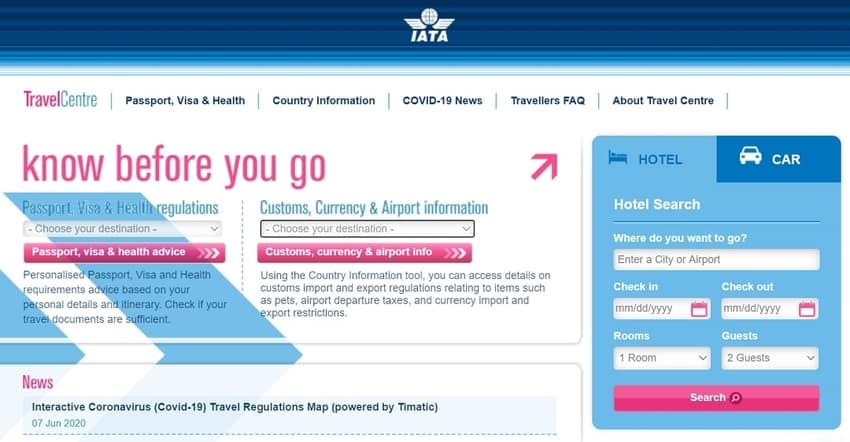 Every country on the map is highlighted in four shades of blue color to provide an easy, visual reference for understanding the relative strictness of its current travel regulations.
Each nation falls into one of 4 broader categories:
Totally Restrictive
Partially Restrictive
No regulations related to Coronavirus (COVID-19) implemented
and Latest updates currently under review.
Just simply click on a country to view detailed information about its current restrictions, including air-travel status, quarantine policies, eligibility parameters, exemptions and applicable documentation requirements.
As the Covid-19 pandemic is better under control and action is taken in the aviation sector to minimize the risk of virus transmission and preventive practices are used locally, things are beginning to normalize.
As they do, countries will change their restrictive policies on cross-border movements within a few months or week. So it's important to keep updated with the latest developments in any destination you may be eyeing.
As an example, the European Commission had announced its intention that the European Union (E.U.) should reopen its internal borders between member states by June 15th with various precautionary measures.
Just today it announced that the Schengen zone with 26 nations should be fully reopened by the end of June 2020. All non-EU countries. Travelers will continue to be subject to 14-days-quarantine – a policy for which no final end date has announced, yet.
The consolidation of the latest data for each destination and its application in Timatic is achieved through IATA's partnership with airlines and close bilateral relations with government agencies worldwide.
As stated on the GodSaveThePoints opinion website, the absolute accuracy of information from a single online source is not guaranteed. It is therefore recommended to also check travelbans.org to further inform your travel decisions.
For more information, see iatatravelcentre.com.
(Inputs from Travelpulse)
---
For the latest travel news and updates, Follow and connect with us on Facebook, Twitter and Linkedin!
To get travel updates directly on your mobile, save and send a message at 9461777617 on Whatsapp to start.
---
Read also, Flydubai announces special flights to India and 10 other countries