The Govt of Himachal Pradesh last week in an order announced that it will the famous Rohtang Pass tourists and day-trippers till April-end 2022.
The decision to close the famous tourist destination comes amid the extreme weather conditions and frozen, slippery roads that have made driving risky.
The Himachal Pradesh Govt in a notification stated that the movement of all type of vehicles towards Rohtang Pass beyond Kothi village shall be prohibited W.E.F. 22 Nov. 2021 till further order.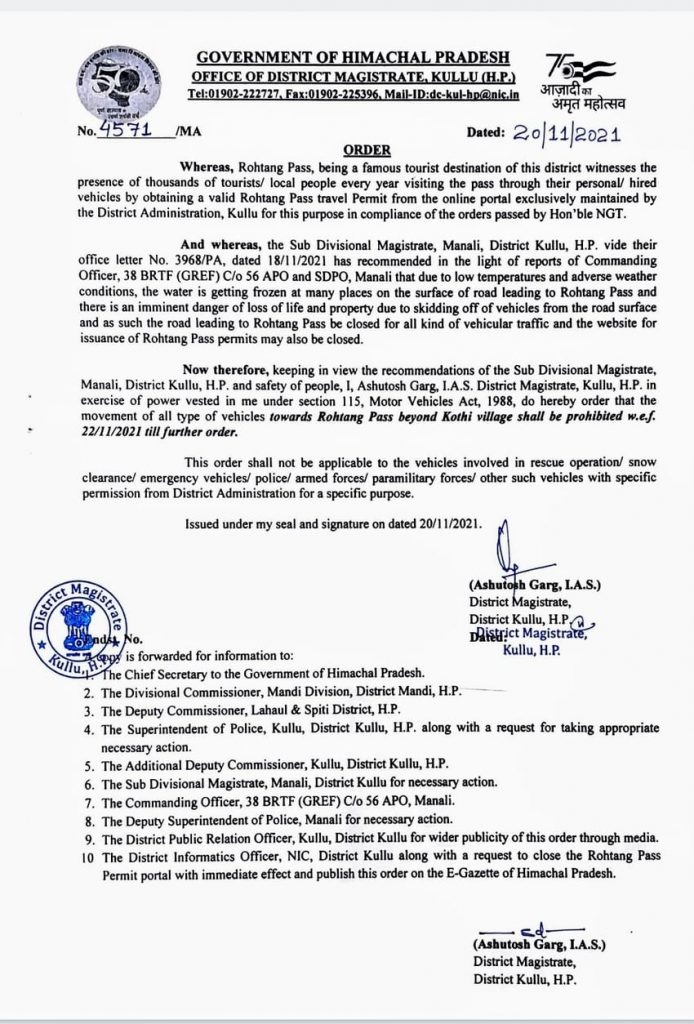 Rohtang Pass is at 13,050 feet and connects the Kullu Valley with the Lahaul and Spiti Valleys of Himachal Pradesh. Tourist vehicles headed for Rohtang Pass will not be allowed beyond Kothi village 13 km ahead of Manali town till April next year.
However, the order is not applicable to the vehicles involved in rescue operation/snow clearance/ emergency vehicles/police/armed forces/paramilitary forces/other such vehicles with specific permission from District Administration for a specific purpose.
It is worth mentioning that the Border Roads Organization (BRO) suggested that because of the dipping temperature and unfavorable weather conditions, the water became freezing at many locations on the road leading to Rohtang Pass and it must be closed for civilian vehicles.
Post the Diwali celebration, the Rohtang Pass witness a massive traveler footfall. It is a strategically vital Pass as it is a crucial link to the forward areas of Ladakh.
Last year in October, a 9-km long Atal Tunnel became opened that offers all-weather connectivity to Lahaul and Spiti besides cutting down the distance to Leh with the aid of using 46km and drive time by around seven hours. It is stated to be the world's longest tunnel above 10,000-feet.
Also Read: Sikkim Lifts Covid-19 Restrictions On Inter-State Travel