The VFS Global on Tuesday in a social media post informed that it has resumed the Germany visa services in Mumbai, Chennai, Hyderabad, Kochi, Bengaluru, and Kolkata for all Schengen visa categories for those who are fully vaccinated against Covid-19.
To book an appointment or any further information customers are requested to can visit this link – https://visa.vfsglobal.com/ind/en/deu/, It must be noted that the slots are limited for Schengen Visa.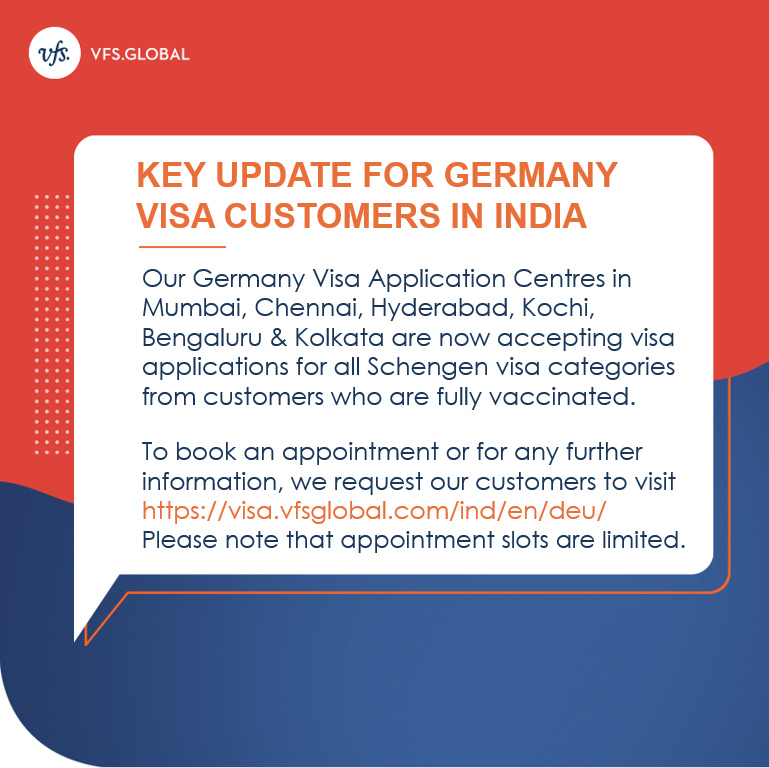 Moreover, the VFS also shared guidelines for acceptable Vaccine certificates for a Germany Visa in Mumbai, Chennai, Hyderabad, Kochi, Bangalore, and Kolkata;
Guidelines For Vaccine Certificates
It has to be a full vaccination against Covid:

2 doses x BioNTech (Pfizer)
2 doses x Moderna
2 doses x AstraZeneca (Covishield)
1 dose x Covid-19 Vaccine Janssen
1 dose x AstraZeneca + 1 dose x BioNTech
1 dose x AstraZeneca + 1 dose x Moderna
Or Person has had Covid and only got 1 shot of vaccine – pls ask for positive PCR TestAND 14 days have passed after the second dose

The following data has to be found on the vaccination certificate:

Name, Surname + Date of birth OR Passport No.
date of vaccination, no. of vaccinations,
Name of vaccination,
Name of illness (Covid)
Official symbol or name of certificate provider must be shown as issuer on certificate

Language: German, English, French, Italian, Spanish
Printout is acceptable, however photo of certificate cannot be accepted
Declaration click here  must be filled and submitted along with the Vaccine
---
Follow and connect with us on Facebook, Twitter, Linkedin, Instagram and Google News for the latest travel news and updates!
---
Also Read: VFS Resume Passport Submission Service For Canada Visa