Important Update: Air India Express Dubai Flights Suspension Withdrawn
The Dubai Civil Aviation Authority has again suspended Air India Express flight operations to and from the Dubai airport.
The flights have been suspended for 15 days from 18th September until 2nd October, as per the official notice.
The suspension notice states that the airline had carried a Covid-19 positive passenger on September 4, on flight IX1135, from Jaipur to Dubai, and because of this, the Dubai has suspended all Air India Express flights to and from India.
Here is the notice: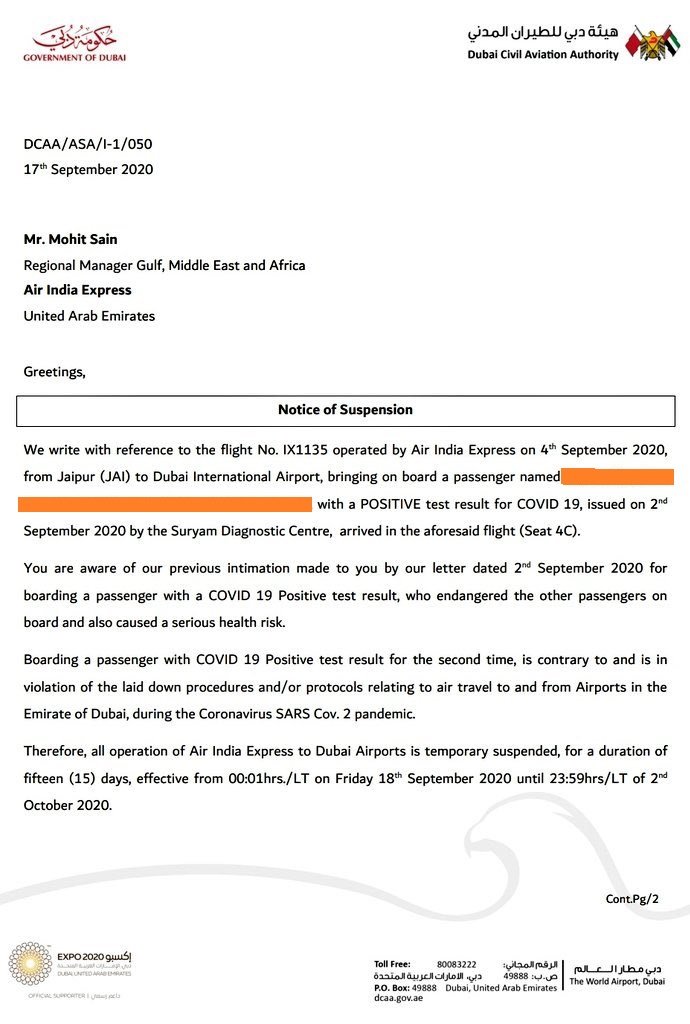 The notice furhter added,
"In addition to the suspension of operation, you will be further notified to pay all the expenditure incurred by the respective authorities for medical services and/or quarantine of any passenger(s) and the other passengers in that flight and also any other expenditure connected thereto.

For the resumption of operation to Dubai Airports, you will be requested to submit a detailed corrective action/procedure implemented to prevent such incidents from occurring again, for this authority review and assessment."

Air India Express Flight Suspension Notice Dubai
Dubai International Airport has indicated the status "canceled" for all Air India Express flights scheduled for Friday.
The passengers have received messages that some of the flights to Sharjah International Airport have been postponed on Friday "for operational reasons".
---
For the latest travel news and updates, Follow and connect with us on Facebook, Twitter and Linkedin!
---
Also Read – Qatar Airways Expands Network to More Than 90 Destinations