In the fast-paced world, we live in, air travel has become an essential part of our lives. However, the process of checking in and boarding can be a daunting task, often involving long queues and frustrating waiting times.
To ease the process and provide a seamless experience, the Indian government launched DigiYatra on December 1, a biometric boarding system using facial recognition technology.
The system has already seen over 1.6 lakh air travellers using the facility at three airports – Delhi, Bengaluru, and Varanasi, and has been hailed as a saviour by frequent flyers.
Must Read: Step-by-Step Guide to DigiYatra's Paperless Boarding Experience
The total number of passengers who have used the Digi Yatra process at the airports from 1st Dec 22 to 14th Feb 23 is 1.6 Lakh+. The total app user base of Digi Yatra on the Android Play Store & iOS Apple App Store is 422K.
Growth in the number of passengers using Digi Yatra
There has been steady growth in the number of passengers using Digi Yatra.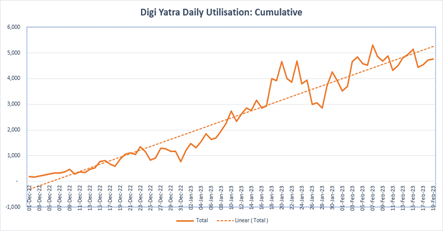 Varanasi- The number of Digi Yatra users has increased from 0.09% of total passengers on 1st December 2022 to 28% of total passengers on 13th February 2023 with the highest of 37% of total users on 2nd February.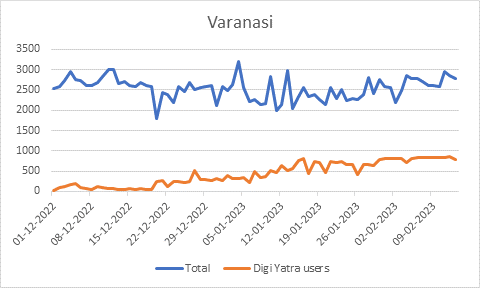 New Delhi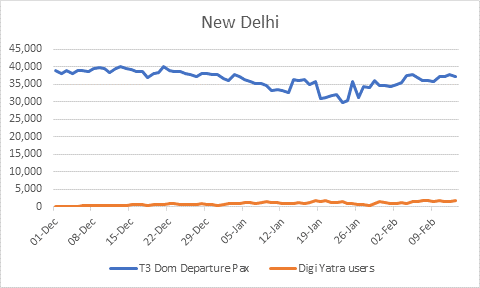 Bangalore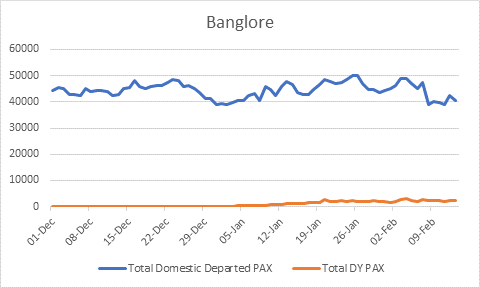 Revolutionizing the Way We Fly
Travellers have given the DigiYatra system positive feedback, praising its simplicity and efficiency. Passengers can complete the check-in and boarding process without using physical boarding passes or ID cards by simply registering on the DigiYatra app.
From check-in to boarding, the system uses facial recognition technology to identify passengers, eliminating the need for manual document verification. This saves time while also ensuring a contactless experience, lowering the risk of COVID-19 transmission.
The system prioritises data privacy and security while providing a seamless and hassle-free experience. The DigiYatra system does not centrally store any personally identifiable information. All passenger data is instead encrypted and saved in the passenger's smartphone wallet.
The information is only shared for a limited time with the airport where the passenger's DigiYatra ID must be validated. Within 24 hours of the flight, the data is purged from the system.
DigiYatra Expanding to More Airports
The Indian government plans to expand the DigiYatra system to more airports, with Kolkata, Pune, Vijayawada, and Hyderabad airports set to roll out the system by March 2023. The system's success has also prompted international airports to consider implementing similar systems, demonstrating India's leadership in the aviation industry.
To summarise, the DigiYatra system is an innovative and game-changing solution to long-standing air travel problems. The system has received positive feedback from both travellers and industry leaders for prioritising passenger convenience, data privacy, and security.
We can anticipate a future in which air travel is seamless, hassle-free, and secure as the system expands to more airports.