The VFS Global, a visa outsourcing and technology services provider on Saturday issued an update regarding walk-in services at its Canada Visa Application Centres in India.
Walk-in Services at Canada Visa Application Centres
According to the update effective August 01, 2022, Canada visa applicants can submit their passports (with prior appointment) and collect their decision envelopes (walk-in) from Monday-Friday between 9:00 to 17:00 Hrs. at all Visa Application centers in India.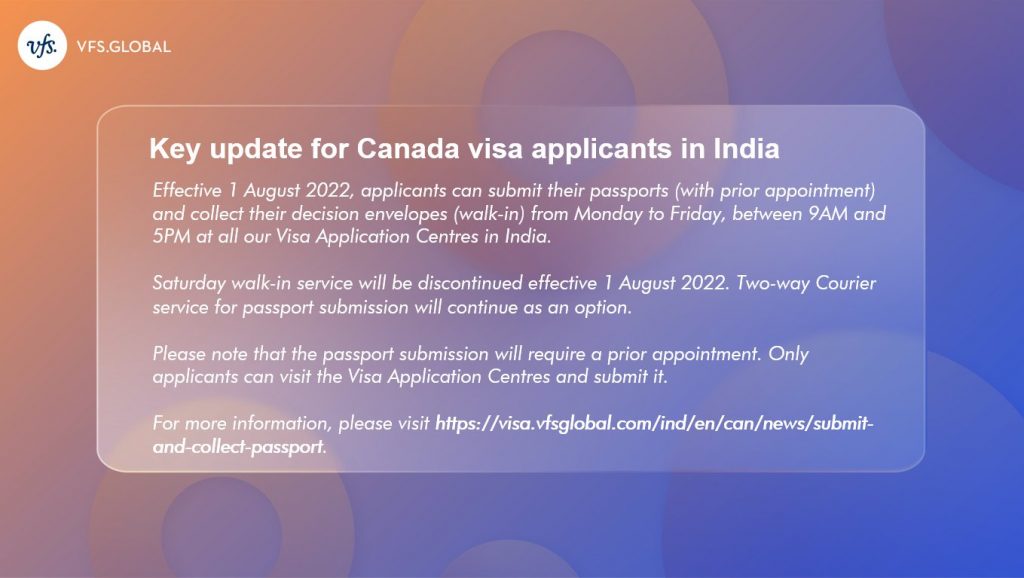 The walk-in service, which was previously only available on Saturdays between 9 AM and 2 PM, will no longer be offered from August 1, 2022.
Instead, it will be available on weekdays as well and for the whole working hours (09 AM to 05 PM) at all VACs.
Currently, all ten Canada Visa application centres in India are operational. (Ahmedabad, Bengaluru, Chandigarh, Chennai , Hyderabad, Jalandhar, Kolkata, Mumbai, New Delhi and Pune)
It must be noted that the two-way courier service will still be available for submitting passports. Also be aware that submitting a passport will require an appointment in advance, and that only applicants may do so at the visa application facilities.
Appointment For Passport Submission
Applicants must go to https://cicforms.mioot.com/forms/PS/ and submit an India mobile number to generate the One Time Password (OTP) in order to schedule an appointment for passport submission for their Canada Visa Application
Please Note:
Your passport submission letter is valid for 30 days.
Passport submission appointments are free of cost. Beware of anyone who asks for payments for booking an appointment slot.
Please be very careful while uploading your details in the web form. Your appointment;

date and time will be allocated on a first come first serve basis
is non-transferable and information once updated cannot be changed
and may not be entertained if the appointment letter details do not match with the passport submission letter issued by IRCC

Appointment letters will be sent from an e-mail id. With domain name@vfshelpline.com.
Individual appointments should be booked for each family member in all categories.